Package Front
(Click for larger view)

Packaged Figure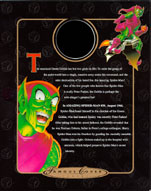 Inner Flap

Catalog Concept Drawing
"The maniacal Green Goblin has but two goals in life: To unite the gangs of the underworld into a single, massive army under his command, and the utter destruction of his hated foe, the amazing Spider-Man! One of the few people who knows that Spider-man is really Peter Parker, the Goblin is perhaps the web-slinger's greatest foe!

In AMAZING SPIDER-MAN #39, August 1966, Spider-Man found himself in the clutches of the Green Goblin who had learned Spidey was secretly Peter Parker! After taking him to his secret hideout, the Goblin revealed that he was Norman Osborn, father to Peter's college colleague, Harry Osborn. Spider-Man won his freedom by goading the mentally unstable Goblin into a fight. Osborn ended up in the hosptial with amnesia, which helped to preserve Spider-Man's secret identity."

The Green Goblin is perhaps the most fully realized figure in the first series. His super-poseability allows him to perch menacingly atop a perfect replica of his Goblin Glider. Even the pumpkin bomb has the appropriate snarling face on it!

This figure was a close second in popularity among the first series figures. Everything about it just seemed to click. Even the bag of tricks really opened. It's too bad that the pumpkin bomb couldn't have been attached to the hand with velcro. But even that doesn't diminish enthusiasm for this figure.

Goblin uses the Type I Male body (as does Spider-Man) and comes with two gloves, boots, a belt, bag of tricks and the Goblin Glider.