---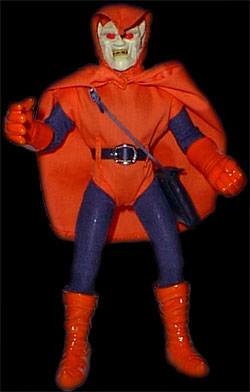 Check out this awesome custom of the infamous Hobgoblin done by Skipper McFarlane. For more images and a recipe, click here.
---
Paul Wasson made this version of Logan in his samurai duds by using the clothes from Li Shang from the Mulan series of toys. You can see more of Paul's custom work at: http://www.csd.net/~wasson/fc/.
---
Here is a virtual custom of a classic Scorpion done by Justin Mullins. This image was culled from one of our Toy Fair photos of Daredevil. You can barely make out the original under this fabulous digital custom. If only it were real!
---
Virtual Cyclops and Phoenix Two-Pack (by EGM)
Wouldn't this be an awesome duo? These aren't actual customs, but just computer enhanced images of a Dark Phoenix and a Captain America made over into a Cyclops. The cover is X-Men #101 representing the birth of the Phoenix. Although Cyclops' head is the only part showing, take note of the similar shouting, scowling expression.
---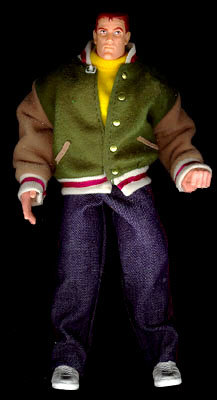 Custom Peter Parker (by EGM)
This figure is made from an FC Spider-Man stripped of his costume. I used the civilian clothes from an FX Maxx Freddy Krueger doll. The jacket and shoes came from a Ken accessory pack.
---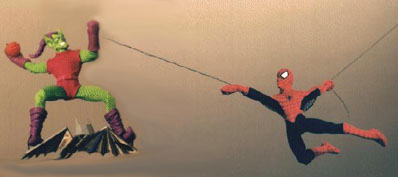 Ceiling Battle Diorama (by Dave Harlan)
Hop on over to the Custom Corner to see more pics of this ceiling diorama created by Dave Harlan (aka, the Angry Red Herring).