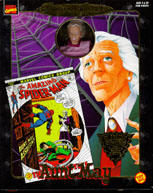 Package Front
(Click for larger view)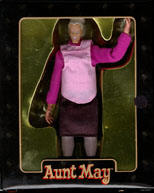 Packaged Figure

Inner Flap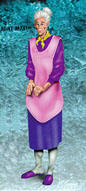 Catalog Concept Drawing

Catalog Photo
"When Peter parker was left an orphan, his Uncle Ben and Aunt May took him in and raised him themselves. Learning responsibility and kindness from them, Peter eventually grew up to become the crimefighting super hero, Spider-Man. Peter keeps his identity as Spider-Man a secret to protect his loved ones, not even Aunt May suspects the truth about her nephew.

Presented here as she appeared in the classic AMAZING SPIDER-MAN #115, Aunt May has inadvertently found herself on the side of Doctor Octopus! Afraid and distrustful of the costumed Spider-Man, and thinking Doc Ock to be a benevolent scientist, Aunt May sides with the villain. Though Spider-Man eventually stops Octopus, the story concludes with the unlikely event of Aunt May becoming caretaker of Doctor Ock's laboratory and house while he is taken to prison, leaving behind a confused, dumbfounded Peter Parker! "

Aunt May was the line's first mail-in exclusive. Limited to 10,000 pieces, collectors could obtain this figure by mailing in the coupon found inside series I and II figures along with $19.99 (plus $5 S&H) and the proof of purchase cleverly located on an inner flap of the package.

What makes this figure unique is that it came fully packaged, just like all the other Famous Covers figures, in a fold-out book window box. The only significant difference in the packaging is that the Aunt May does not have the advertisement for a mail-away exclusive figure on the package back.

Aunt May was originally shown in the concept artwork found in Toy Biz's 1997 catalog. She went through a few changes from design to completion but stayed relatively faithful to the original plan. She did lose her scarf somewhere along the way to becoming an exclusive mail-away figure.

And for those too timid to peek, Aunt May does have the same body as Storm. This is sure to give more than a few collectors some interesting Freudian nightmares.

Order Form