Package Front
(Click for larger view)

Packaged Figure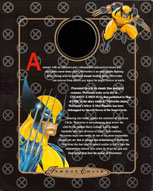 Inner Flap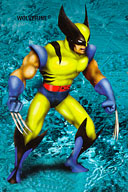 Catalog Concept Drawing
"A mutant with an unknown past, unbreakable adamantium bones and retractable razor-sharp claws, Wolverine is an unstoppable fighting force! Along with his powerful mutant healing factor, Wolverine can recover from almost any injury he might receive in battle.

Presented here in his classic blue and gold costume, Wolverine looks as he did in UNCANNY X-MEN #133, first published in May of 1980. In the story entitled 'Wolverine Alone,' Wolverine's fellow X-Man Phoenix has been kidnapped by the evil forces of the Inner Circle.

Entering into battle against the members of the Inner Circle, Wolverine is sent plunging deep below the club by the mutant Harry Leland. Left to single handedly take on a division of Inner Circle soldiers, Wolverine leaps into battle! In one of his most memorable scenes, we see that so savage and intimidating is Wolverine that when the last heavily-armed soldier is left to face the adamantium-clawed hero alone he drops his gun and flees rather than face the power of Wolverine!"

With a removable mask, Wolverine can adopt two looks. The figure represents his classic costume extremely well and the pliable claws on the gloves are a good compromise between safety and appearance.

Made with the stockier Type II Male body, Wolverine was an obvious choice for this line. It remains to be see if we will be treated to any further Wolverine versions such as his Brown uniform.

The mask is somewhat difficult to remove because of its snug fit. Caution should be used in removing the mask as some have noted that attempts to pull the mask off have significantly loosened the neck. However, the Logan face sculpt under the mask is well worth seeing.