Package Front
(Click for larger view)

Packaged Figure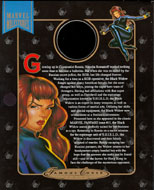 Inner Flap

Catalog Photo
"Growing up in Communist Russia, Natasha Romanoff wanted nothing more than to become a ballerina. But when she was recruited by the Russian secret police, the KGB, her life changed forever. Working for a time as a KGB operative, the Black Widow fought against many American heroes; but she soon changed her ways, joining the super hero team of Avengers Having had affiliations with that super group as well as Daredevil and the espionage organization known as S.H.I.E.L.D., the Black Widow is an expert in many weapons as well as various forms of martial arts. Utilizing her skills and special equipment, the Black Widow now works alone as a freelance adventurer.

Presented here as she appeared in the classic MARVEL FANFARE #11, the Black Widow seems perfectly suited for her business as a spy. Returning to Russia on a secret mission for the espionage unit of S.H.I.E.L.D., the Widow is discovered and then falsely accused of murder. Barely escaping her Russion pusuers, the Widow returns to her headquarters empty handed but with the hope that the answers she seeks can be found still -- and so she leaves for Hong Kong to face the challenge of a mysterious opponent."


The Black Widow changed very little from the prototype shown at Toy Fair 1998. The early catalog photos showed a somewhat wilder hairdo that was subsequently tamed down significantly. The addition of bangs to the hairstyle completed the Widow's signature look.

The sleek, all black body suit makes the Black Widow an obvious choice for such custom figures as Batgirl. Since Toy Biz has steadfastly maintained that they will not be producing DC characters, it may be the only way to get a Batgirl in this style.

Interestingly, the boots for Black Widow are slightly different than the ones used on the other females wearing boots previously. The Widow's boots are smooth, whereas the previous boots have several ridges on them. (Thanks to Rob Rooney for the tip)

The Black Widow figure has the dubious distinction of being the Famous Cover's first shortpack. In the case assortments for this series, Black Widow was packed only one per case making her one of the more difficult figures to locate thus far.