"The Fifth Beatle"
I've worked at the same place for ten years until two months ago, and my boss, Themis, was my superior for eight of those ten years. He's a huge Beatles fan, and I always drew posters for sales with a cartoon of his mug I designed. Every Christmas, when time allowed, I made a custom figure of him as a holiday gift for the boss. Here, my
cartoonish design of him is immortalized in Plastic, using Super Sculpey, acrylics, and Paul as a base.
This was Themis's final gift before I left the company.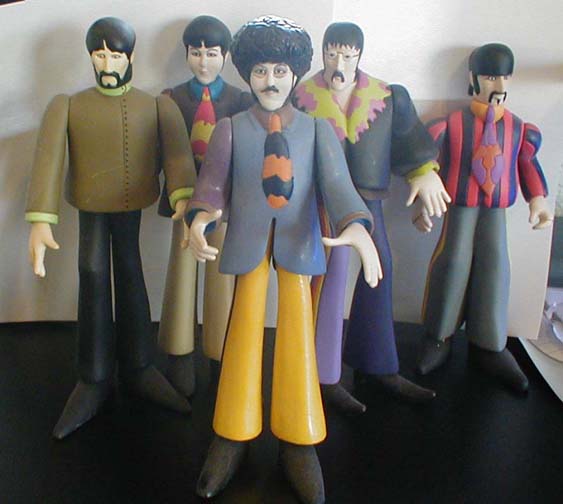 "Yellow Submarine Themis"
Again, I believe I used Paul as a base for this one. Super Sculpey was used for the hair. Not as cartoonish as Themis
would've liked, but a fifth Beatle, nonetheless.

"The Y.S. Band Themis"
The base used for this fifth Beatle is standing right behind him. I found some scraps for the baton and the hat top.

"Wayne/Powers Prisoner"
Mr. Freeze in his underwear! I can't believe I never thought of this before! I mean, I've always wanted to make the Mr. Freeze from BATMAN BEYOND, but this version wasn't the one in mind. BTNA Freeze head on a Mattel Nightwing body. The fly and elastistrap is done with a ballpoint pen.


"Casimir's Supergirl"
Took the recipe out of Casimir's hands. The best and easiest custom to replace the 11 year old girl on the pegs today. The difficult thing it finding the Jack in the Box figure...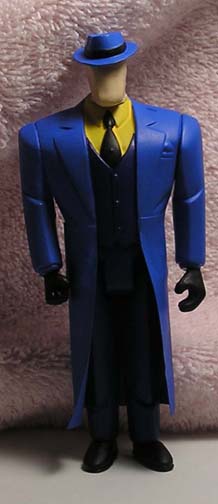 "Question"
I had to include two pictures of this character. The darkness does wonders for the shadow cast from the hat-brim. Recipe stolen from IRONCOW. His is by far my personal favorite result. I was too lazy to shave down the buff
chest, like IRONCOW did, but hey, it works for me. And that's all that counts.


"Decepticon Commander 'DEZSANRUS' or 'DEATHSAURUS'"
Instead of purchasing the Japanese exclusive from the late 1980's for $200, I opted for a Chinese bootleg on ebay for $25. It was funny--bright greens and yellows--nothing that resembles the colors a Destron/Decepticon commander would display. So I did a simple (not-so-simple) repaint. Wings are blue, waist is black, weopons are grey. Stickers compliments of REPROSTICKER.COM.
"Deathsaurus in Robot Mode"

"Chinese model kits"
Instead of paying the $200+ it costs to acquire the Transformers I want, I opt to purchase bootlegs and customize them. These parts here make up a Chinese KO model kit of three characters: Blacker, Laster, and Braver. Each snap-model kit creates a car that transforms into
their respective robot mode! After painting and applying decals, I've decided to do more of these (there are many other characters made).
"From left to right: Braver, Blacker, and Laster"
"TRANSFORM!"

"Road Caesar"
All three cars/bots merge to form the gestalt, Road Caesar! Very tedious painting here, and you have to accept the fact that with every transformation, you risk a chip of paint falling to the floor. This photograph depicts the second time Road Caesar formed.