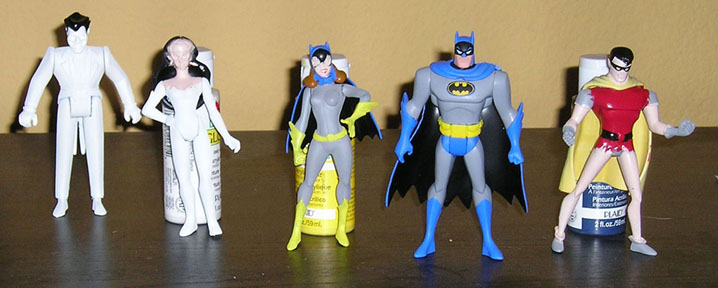 "Starting Out with bases for the 1970's Filmation characters of Batman."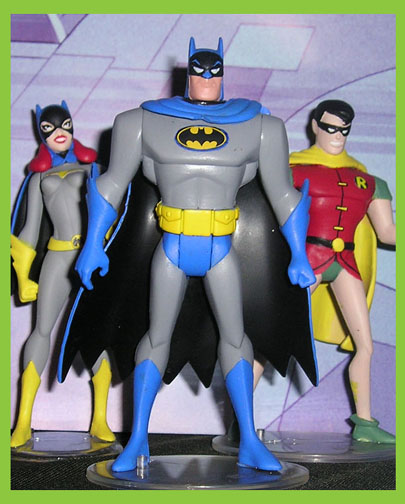 "Batman and his kids" : Mattel Batman body with a BTAS head was used. Undercover Wayne cape was used, too.

"Catwoman": I used a Poison Ivy base, WW hair, and Zatanna head. Sculpted the mask, forhead, and top of hair.

"Catwoman close up"

"Riddler" : I guess FILMATION was not allowed to use him for this certain series because, at this time, the SUPERFRIENDS CARTOON had him. But somehow by changing the colors around FILMATION got ol' Nygma in the opening credits of this particular Adam West season.


"Batgirl": Repainted Toys R Us Batgirl with a Hasbro Batgirl head.

"Robin": Repainted Nightwing body with sculpey, vinyl, and a different Hasbro Robin head
added.


"Penguin" : Super Powers Penguin supplied the base, and I resculpted the vest and then repainted
(notice this one has an actual eyeball, unlike the Super Powers one).

"Moonman" : Dumb character, but easy to make. Wayne has an astronaut buddy staying over at the Manor for a week, and every time the full moon comes out, the astronaut turns into Moonman. Made with an Amazo body, and two tones of yellow spray paint.

"Joker" : Wildcard Joker arms, legs, and coat tails. BTAS Joker head and torso.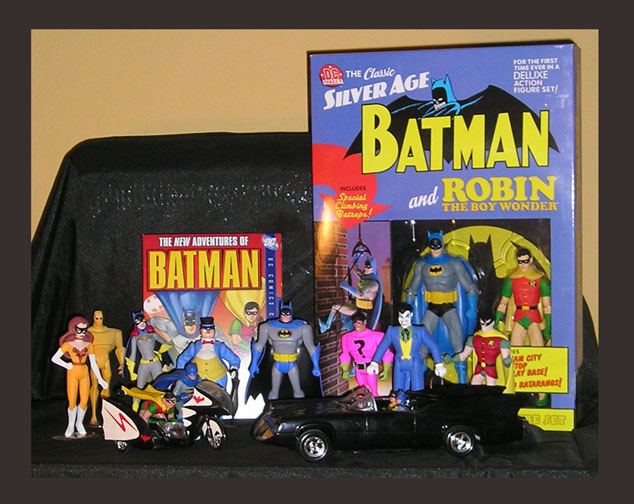 "Groupshot" : The Batcycle and Batmobile are not from this certain cartoon, but definitely from
this era! These models were a gift to me from my good friend, Themis.


"Animated Fett Maquette" : Sad story. My shelf holding four $65 maquettes took a dive while I
was out of town for a week. Three of them broke. Two of those look okay, but Boba Fett was beyond
repair---well, the cape was, at least. After glueing Boby-Fetty back together again, I repainted him as he appeared in the 1980's cartoon, DROIDS.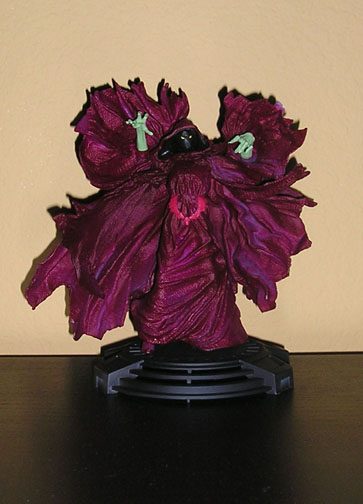 "Shadow Weaver" : As the FOUR HORSEMEN are pumping out fanstastic updates on He-Man and She-Ra figures, I felt there was a character never to be made. Hordak's witch, Shadow Weaver, from the 1980's cartoon, SHE-RA: PRINCESS OF POWER.

"Shadow Weaver Unleashed" : I made Shadow Weaver by using a SW Unleashed EMPEROR. I took apart the cloak (two arms, a head, a cape, and a body). Primed and painted cranberry. Cut and sculpted over the front of the belt. Found the "bat-buckle" in the junk drawer. Sculpted over the face. Makes a nice "updated" version of the character. Even retains the interchangeable hands.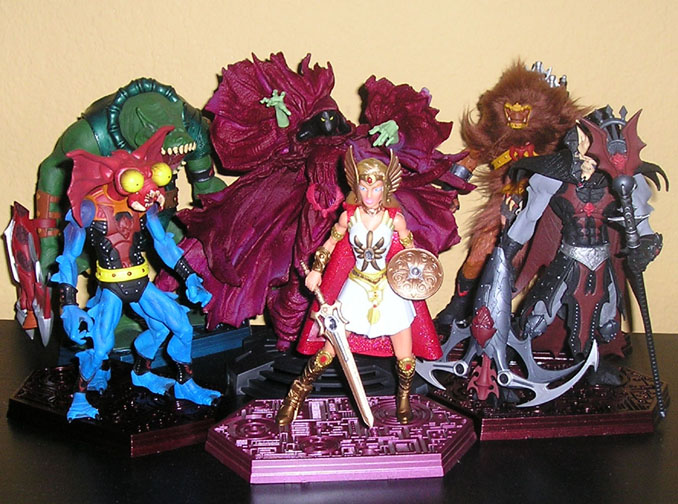 "She-Ra vs. the evil forces of Hordak"