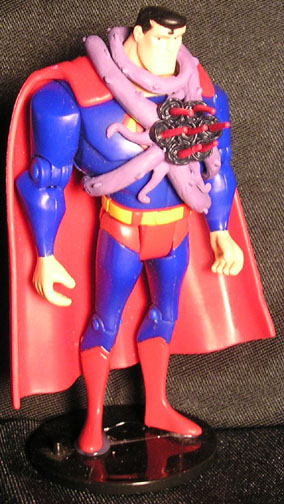 "Black Mercy"
So everyone else has done it, why can't I? A repainted black accessory that came
with the oddly-shaped, jointed Superman figure. Inspired by Casimir's.

"Minerva"
A repainted G1 Nightbeat, with a custom head. I didn't have the Headmaster, so i chopped a head off of a $2 knock-off TF from a Big Lots store. The "ears" are Star Wars parts. Originally cut into the hood so she could transform into the car, but forgot about the fists. So she does transform, but the car has fists sticking
out!

"Custom head for Minerva"



"Clayface"
Casimir recently made this fantastic all-resin piece. It's a cast of his master
custom sculpture, and I just had to get one from him. I bet he has one for you too, if you were to check his site. This guy has quality written all over it--he's
really heavy and easy to paint.

"JUSTICE GUILD OF AMERICA"
For my friends that like me but dislike cartoons, the Justice League go to an alternate reality where these guys are the heroes of a rather old-fashioned era.


"Black Siren before"
Black Canary body and head, resculpted hair, plastic mask, Hawkgirl arms.

"Black Siren"

"The Streak before"
Mirror Master head, sculpted helmet and brim, Starman body, and Martian
Manhunter boots.
"The Streak"

"The Green Guardian"
You can't see the hairline in the photo, but there is one! Martian Manhunter collar glued onto a BTAS cape, jointed Green Lantern body, and a BTAS head.



"The Music Master"
Trenchcoat Joker body and head. Bottom part of coat is redone with vinyl, hair
is sculpted as is the tie and vest. Not exactly how he appeared in the 'toon, but a nice twist on the design. There IS a gap in his teeth! Zoom in on the group shot.

"Tom Turbine"
Superman body and head, with bracelets, anklets, and belt sculpted.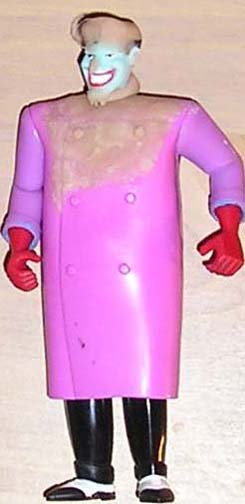 "Dr. Blizzard before"
Madhatter body's tie and collar dremelled off, Flash hands, and a redone Joker head (sculpted nose, chin, ears, and head). Took a 3-hole puncher to some plastic for the headwear. Again, I used my artistic freedom to change him around a bit.


"Dr. Blizzard"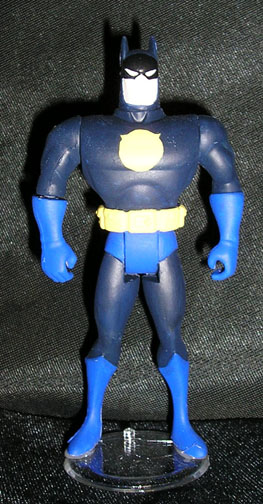 "Catman"
Old-school BTAS Batman figure, with the "whirly-hand" action. There were no spikes on his gloves, so I chose this body. Resculpted the bat ears into cat ears.