"Evolved Amazo"

Repaint, and Mattel will
most likely do this later on.

"Professor Hamilton"

The Mattel JOker
provided the base for this JLU version of the
Professor. Every change is Sculpey, and the coat
bottom is vinyl (thanks for the tips, Casimir!). Note
that in STAS, his hair was gray and his beard was
quite different than in JLU.

"Conspiracy!"
"Martian Manhunter"

Completely copied
from Casimir. Nice piece for the shelf!

"Stand back, it's full of acid!"

Toyman is inspired by Casimir and Mike Danza's Toyman. The head is an original sculpt (not great, but it'll do), the vest, neck, and tie are all Scuptey,and I was far too lazy to sand the Penguin's pants.


"Blue Beetle"

Thanks to Carlos B., the artwork of the JLU comic book is absolutely beautiful. One of the recent issues showed Beetle in the Watchtower, and it was a real treat, as we won't see him in the 'toon. Mine is made from a Starman. The goggles are tips cut from two transparent yellow missles from the scrap bag. Should've painted eyes under them, as they are TRANSPARENT. Oh well. Good 'nuff!


Blue Beetle with a Booster Gold repaint.
"Book 'em, Pudd'n!"
The online comic from Toonzone.net, "Dark Knight Adventures", is wonderful, and in issue #7, the artist depicts Joker and Harley as the "superheroes" of Gotham City. Wonderful stuff. So I had to make 'em both! Harley is a Batgirl head, Talia arms, and WW body and cape. Joker is a Joker head, Nightwing body, and Batman cape. Sculptey was used on both figures, and the set comes complete with neon batarangs that any thug can easily spot in the black of the night.
"Dark Nit Headshots"

"Mr. Miracle"

Had to do it. After the grand JLU episode, "The Ties that Bind," I opted to go against my earlier vow (to not make any heroes and stick with background characters). This is a Starman body, Red Tornado head modified, and Red Tornado cape with plastic added. The nice thing about the JLU line is that the details are painted on...so I don't have to sculpt them on :)
Miracle up close...
"Shayara"

Completely knocked off of
Casimir's ideal custom, and she looks so great on the shelf.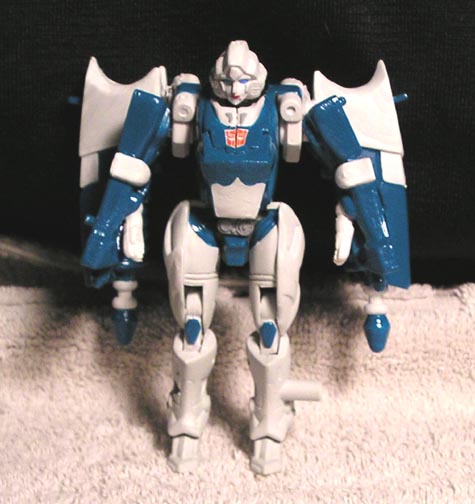 Paradron Medic

Head, arms, hands, legs move. Transformers Energon Arcee was used as a base. Flat
acrylic paints were used on the grays, but the blue/green is gloss acrylic. Of course, the medic does not transform. The half-wheels from pre-existing Arcee were removed and "batman rocket scraps" were glued on back. Paintjob is to match the Palisades Paradron Medic statue.

1 2 3 4 5 6 7 8 9 10 11 12 13 14 15 16
[FAQs and Articles] [Custom Site Links]
[Custom Central Galleries] [Custom Talk]
[Home] [News] [Forum] [Features] [Columns] [Archives] [Custom] [Newsletter]
[Shop Center] [Chat] [Resources] [Contact] [Sitemap] [Privacy] [Toy Shows] [Links]