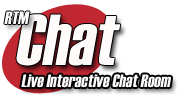 Welcome to the RTM Chat! You may connect to the chat room either via the java applet below, or via IRC using your favorite IRC software, such as mIRC (or ircle for Macs).
The first time you use the applet on this page to connect, it will ask you to accept a certificate related to the applet. Please grant the permission when the pop up window appears from Netscape and IE, it is safe and will not do anything nasty.
This chat room takes a bit longer to log in than the previous Parachat applets.
To connect via IRC, use these settings in mIRC (another explanation of this):
Description: GoodChatting.com
IRC Server: irc.goodchatting.com
Port(s): 6666
Channel (room name): #Toymania
Helpful links from GoodChatting.com:
Waiting for a friend to arrive in chat? How about a game of Simon to pass the time? (Simon is a javascript game which loads in a pop-up window.)
[Guidelines] [FAQ] [Chat Info For Parents] [VIP Chat Archive]

Chatroom provided by GoodChatting.com.