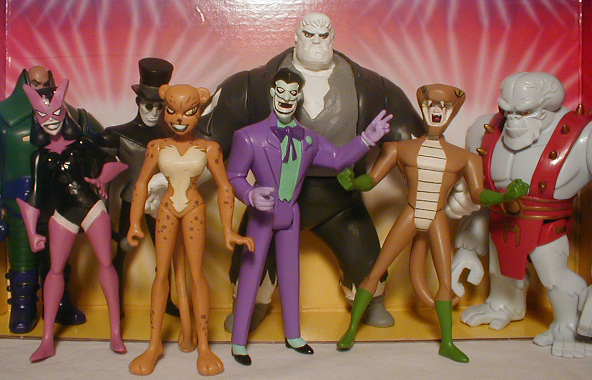 "The Injustice Gang"
FINALLY! I've got the entire first incarnation of the Gang completed.
"Cheetah"

Based on MIKE DANZA's design, except I opted to use the newer Wonder Woman
body. Also a Catwoman head is used, as is her left claw. The tail, like Danza's, balances her.
"Copperhead"

Inspired by 2DToys.com's design, except I decided to use the Mattel Nightwing body for an action pose...and the head is from the little rubber Jokerz that comes with Happy from the Batman Beyond line! Sculpted the snake head around it, and used a ballpoint pen for details (split tongue, eyes, scales, chest lines, etc.).
"Solomon Grundy"

Based on Bill Burns recipe. This comes from a "HUN" figure from the Mutant Turtles line. Nice scale, since he holds his own
against Supes at times (like, only in the first season of JL).

"Threesome"

Star Saphire's design based 100% on 2DToys.com. The Joker is a repainted Mattel Joker with the vest resculpted. The Shade, as been my trend of late, is based 100% on 2DToys.com, as well.

"Superboy Super Powered Scale"

A friend of mine wanted a custom figure from me for the past five years. He's a huge Superman fan, and he recently set me up with a great deal on a new computer. As
payment, he demanded a Superboy figure carded. I decided to go for the Super Powers scale. I carded him using Photoshop, and made him of an old DC Comics Riddler body, a Chris O'Donnell Robin head, and and animated Dick Grayson set of arms. Sculpey was used on face, wrist, pant legs, and boots. My buddy loves it!

| | |
| --- | --- |
| | "Primed and Prepped to Paint" |
| | |
| --- | --- |
| "Carded" | |
| | |
| --- | --- |
| | "Cardback" |
1 2 3 4 5 6 7 8 9 10 11 12 13 14 15 16
[FAQs and Articles] [Custom Site Links]
[Custom Central Galleries] [Custom Talk]
[Home] [News] [Forum] [Features] [Columns] [Archives] [Custom] [Newsletter]
[Shop Center] [Chat] [Resources] [Contact] [Sitemap] [Privacy] [Toy Shows] [Links]