"Work in Progress"
The kids coming to life...took me long enough. Each kid spawns from a
Mattel or a Kenner Robin. Wonder Woman comes from the latest peg-warmer, the Mattel Supergirl.

"The Justice Babies!"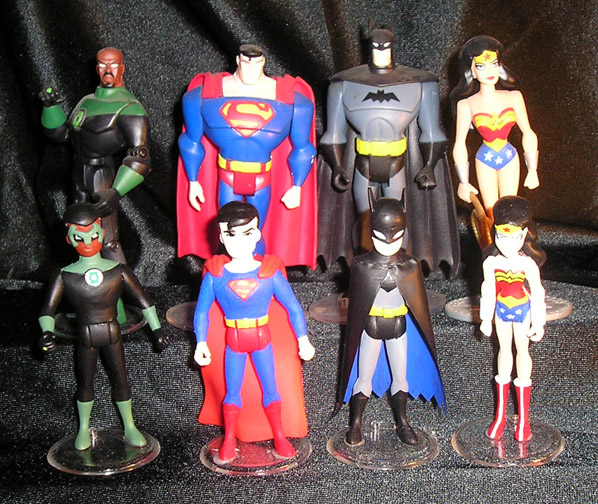 "What are you gonna do when you grow up?"

"Mordred"


"Doomsday Damage Supes"
What better way to celebrate the Man of Steel's month then to take extra fodder and turn them into something. This guy's from one of my favorite episodes, when Doomsday pummels the Man of Steel at the base of a volcano. Vinyl and sculpey was used for the "torn" fragments of his costume, as well as the messed up hair (look closely). Each scratch, bruise, and trickle of blood is copied from a still shot of the episode.


"Labrat"
From the episode, "Legacy", when Supes is a prisoner at Star Labs. Sculpey was used to fill in the shoulders and chest area. Dorky!


"Darkseid Damage Supes"
Again from"Legacy," and, again, each scratch, bruise, and trickle of blood is copied from a still of the episode. Sculpey and vinyl used for torn clothes. One of my favorite moments in the DCAU universe, when Supes almost loses it all together.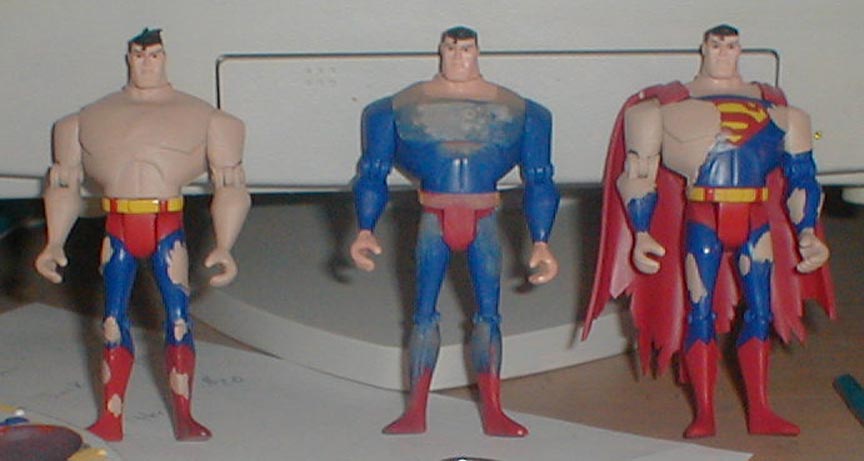 "Supermen"
The before pics of the above three supermen figures.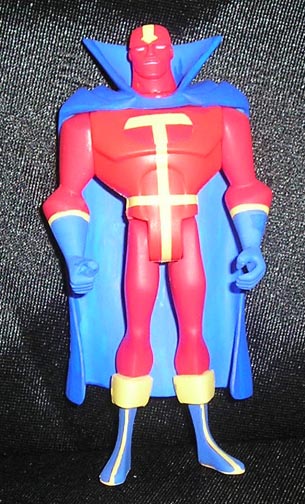 "Rehashed Tornado"
Painted the blue to make the figure accurate. Very big change!

"Dr. Milo pre"
To make Dr. Milo (the JLU incarnation of the character), I used a Mattel Joker and WW hands (her bracelets became his undershirt, and the lady-like hands were perfect). Super Sculpey was used for the jacket, shirt, head, hair, and face.
Notice he's smirking.

"Dr. Milo"


"Dr. Milo sideview"

"Dr. Milo profile"
Jjust to give you a better idea of how I really, REALLY wanted this head to look good.
I hope you think it's beyond crap. ;)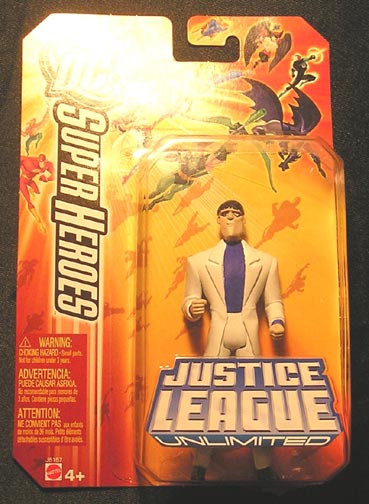 "Dr. Milo carded"
OK, so I'm gonna have some "what if" moments with this empty bubble/card!

"Jonah Hex"
If you haven't read the latest comic series on Jonah Hex, get to your comics store by week's end. It's brilliant. Most issues have Hex look as if he's being played by Clint Eastwood. Loosely based on his outfit in issue #8, this version (my version) of Hex comes from "The Outlaw", a figure I found at a KB Toy Outlet. Sculpey was used to "tear" up his face and make his eyeball. I reversed his hat so the confederate "rope" is facing forward, and he's completely---COMPLETELY---repainted. This is the first time I attempted dry-brushing. I absolutely love this guy.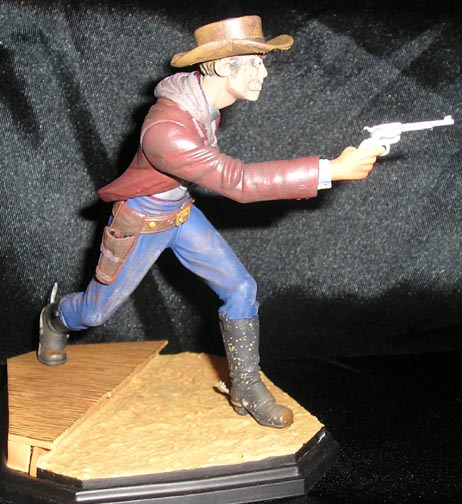 "Lexiac carded"
This is fun! My custom figure in an empty JLU package...we can see our dreams come to life with this photo!

"Batman Beyond carded"
Aother dream come true!