GREEN ARROW NO HAT
Cut off the hat, sculpt the hair, paint the shirt a little more like how it's seen in the 'toon, and you have a cool Arrow.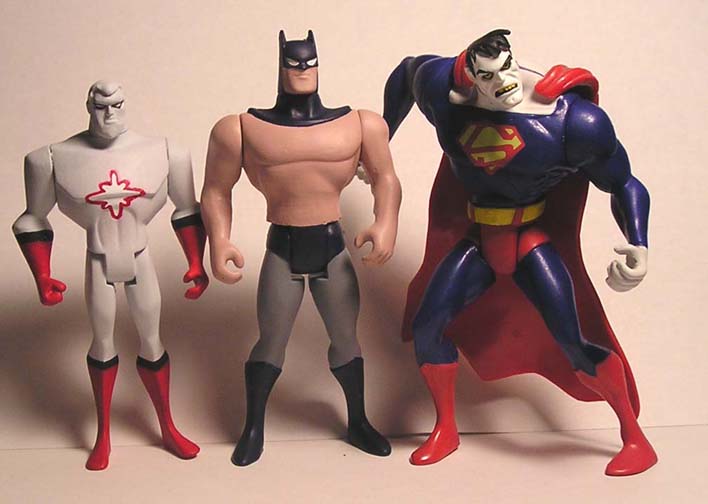 COPY CAT
An enjoyable hobby of mine is copying the masters. So I just had to make myself a Captain Atom, The Demon's Head Batman, and repainted Bizzarro based on Casimir's recipe.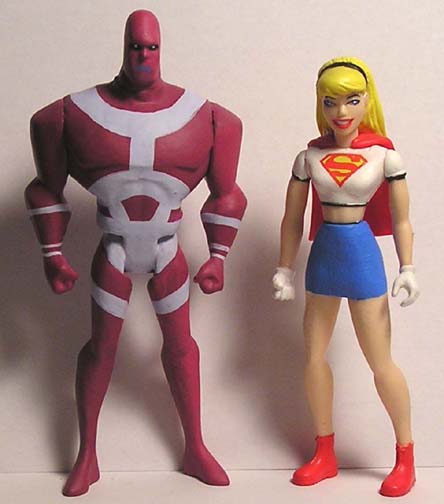 PARASITE AND SUPERGIRL
Parasite is another of my "copycat gang", completely based on Casimir's recipe. Supergirl's skirt was dremmeled down and her eyes and shirt repainted.

RHINO AND SCARFACE
Using one of my thugs found on page one of this site, Rhino comes alive!
Resculpted jaw and thick brows makes him almost on-model.



RHINO AND BATS
A great scene from the latest DVD BTAS box set--Batman brawling with Rhino.
Bats' original cloth cape was replaced with this perfectly-fitting one.

Bruno Manheim II
As my painting and sculpting skill improve slowly over time, I've taken this old custom and redid the hair and paintjob and jawline. Likeable fellow, but I think one would crack his knuckle punching that jaw I made.

AMAZO REFORMATTED
Copying Casimir once again, I went all out and painted it one tone of grey.
Thanks for the wonderful idea, Casimir! This figure rocks!

League of Shadows Soldier
Poseable JLU Flash with Amazo head. I sculpted gloves, a belt buckle, and a seam in the shirt. Hard to see, though, 'cause it's all black.


Sin Tzu
Used an Undercover Bruce Wayne figure, resculpting the head and mouth, adding on
armor and vinyl tails. Ball-point pen was used for details, and the pony-tail came from a TNMT "Hun" figure I used for Grundy. I love this figure.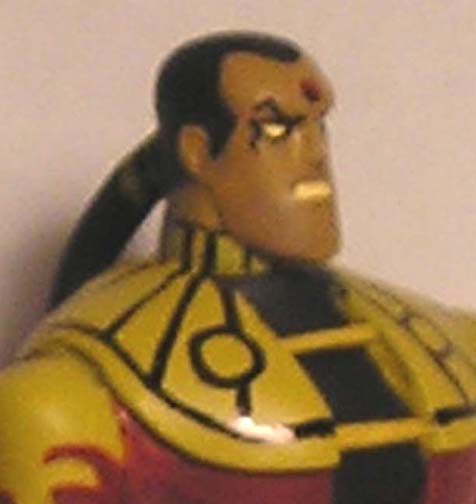 The Rise of Sin Tzu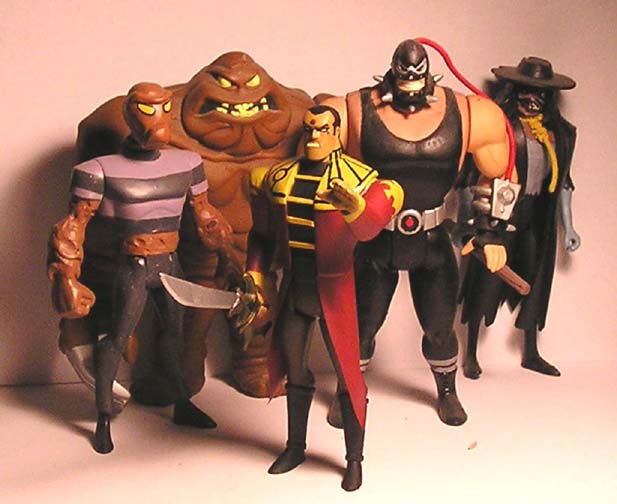 Shazam
Captain Marvel is a Starman body with Mattel Superman head. Jaw is redone, head reshaped, and hair scuplted on.

1 2 3 4 5 6 7 8 9 10 11 12 13 14 15 16
[FAQs and Articles] [Custom Site Links]
[Custom Central Galleries] [Custom Talk]
[Home] [News] [Forum] [Features] [Columns] [Archives] [Custom] [Newsletter]
[Shop Center] [Chat] [Resources] [Contact] [Sitemap] [Privacy] [Toy Shows] [Links]