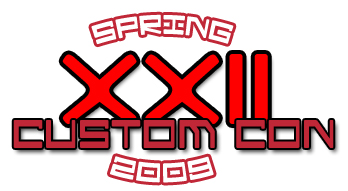 Masters of Eternia
The world of He-Man and the Masters of the Universe has been re-envisioned like never before! Masters of Eternia draws its inspiration from Conan the Barbarian and the stories of Robert E. Howard, just as MOTU was ignited in the '80s by a spark from that same source. Unlike the previous MOTU toy lines and cartoon series, however, this new collection introduces fans to a savage, darker, and more dangerous Eternia where the goal isnt to live happily and learn, its to survive. Its going to be a challenge just to master this one world; the universe will have to wait.
The new line consists of detailed figures designed either for play or display. Wave 1.0, shipping summer 2009, includes static versions of He-Man, Skeletor, Beast Man, the character known in the classic line as Faker, and a fifth mystery figure. Each character will be released as two distinctly different figures over several waves and refreshed cases; one version will feature dramatic poses and limited articulation, and the other will be designed with greater emphasis on traditional action figure characteristics and play appeal. All figures will be created using the same scale and will feature unique and original sculpting.
The Masters of Eternia: Men and women, heroes and villains, myths and monsters in a realm of sorcery and science. In a world full of ordinary people, the Masters are gods. Some of these beings are living links to the past, while others have come from alien worlds or been changed by the technology of the present. Some seek ultimate mastery of the planet, and two will determine the fate of Eternia and its countless inhabitants.
The story begins with: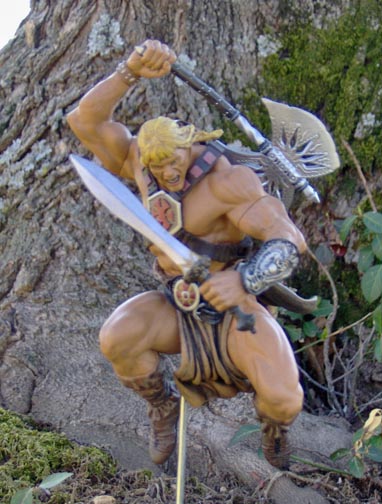 He-Man, Eternias most powerful warrior. No one knows his origin, he has no family, and he has few friends, but his name is spoken with awe across the planet. He is trusted as a force for gooda protectorbut is also feared like a destructive and unstoppable force of nature.. There is no other living man like him. Hes been seen near Grayskull too often, and some say he has even entered the castle reason alone to fear him.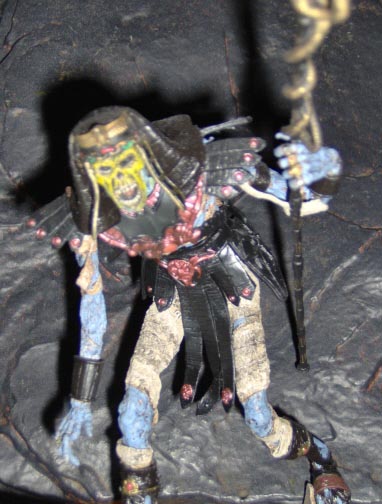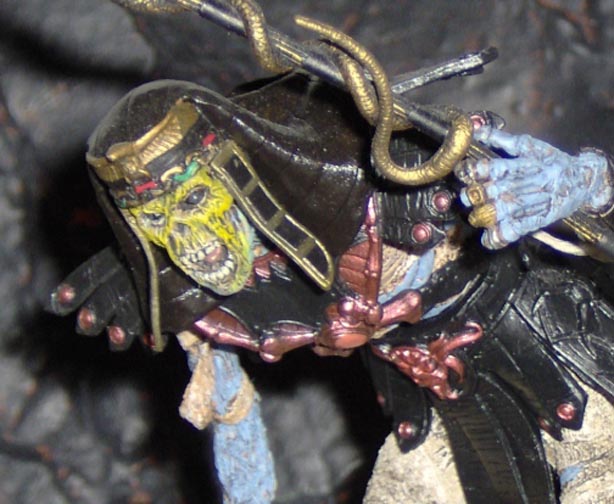 Skeletor, a nightmare from another age that never dies, but sleeps--sometimes for centuries. His body has been burned, broken, tortured, and starved, but his will to live is immeasurable. Very little is known of He-Man, and even less is known of Skeletor. One thing is clear, there is no soul more evil. His magic bleeds life from the planet, leaving parts of it stripped bare, ripped and exposed like open wounds. He poisons the minds of men and women and sets loose things either forgotten, or unknown, unimaginable, and unnatural. Legend says he came to Eternia with The Horde, but The Horde disappeared thousands of years ago, and the people of Eternia pray that Skeletor will one day do the same.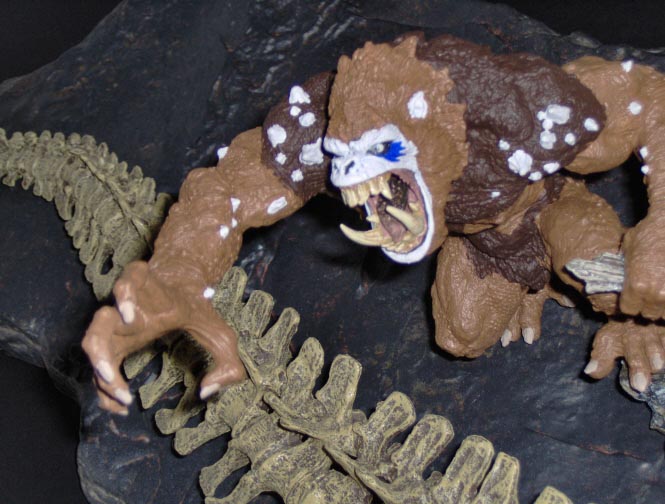 Beast Man, a creature more beast than man, and quite possibly the most dangerous animal on the planet. He appears to roam free at times, but he is always on Skeletors leash. He is a savage weapon, a brutal predator, and his ferocity is contagious. His presence often causes other creatures to behave unpredictably and aggressively, although the relationship appears to be one of provocation and not control. Its as if he releases violence and rage into the air for other living things to inhale.
The False Man, just one of the many names used in villages and cities across the planet to describe something horrible. It is the thing that children fear in the night, a curse too terrible for most to invoke. It is spoken of as a ghost or murderous spirit, but there is no doubt that it is real. Farmers find their livestock smashed and torn and partially eaten, men are discovered crushed and unrecognizable in the forest, although not always dead, and women awaken bruised and bloody, often lost and with no memory of their ordeal, just the scars. No one ever sees the children again. This thing--this monster appeared only after Skeletor was seated again upon the throne of Snake Mountain, so Eternians wonder: Was it born of Skeletors evil, or is it something worse? And could the whispered rumors be true, does it resemble the most powerful man in all Eternia?
Learn more... (see the recipes)
Back to the CustomCon22 main page
[FAQs and Articles] [Custom Site Links]
[Custom Central Galleries] [Custom Talk]