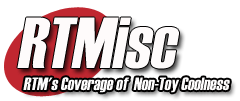 Silver Age Angel Statue
Gold and silver are two valuable metals, and they're also used to designate eras. Gold would be the best, while silver counts as second. Where white gold fits is probably in between. The golden age of comics was a time when many of the truly iconic characters were created, like Captain America, the Sub-Mariner, Batman, Superman and Wonder Woman. But the silver age was the birth of the modern hero, modern in the sense that comics were getting more sophisticated and the characters were getting more human. They had frailties, money problems and the same ills that affected the readers, hit the heroes. It was in this age that a group of not human characters started at the new Marvel Comics Group, with the unusual name of X-Men.
The X-Men were neither all men nor even men in the sense of being human. They were all mutants, and in addition to the usual cadre of super-villains they had to deal with discrimination since many people disliked them immensely. Just because they were a little different and liked to mix blues with yellows in their fashions. That and they were mutants, which sounds scarier than it is.
Some people just have all the luck. Warren Worthington might have a preppy name, but that's about the only thing that's bad about his life. He attractive and young, and he's heir to a fortune - so he's rich. What could be better than that? Well, he also has a pair of mutant wings so he can actually fly, and his bones are light so he never has to worry about being too fat. If they had a bachelor reality show in the Marvel Universe, Warren would be on it.
Having large wings on your back kind of gives away the fact that you're not an average guy, and since Warren realized his mutation would cause problems he kept them tied down and hidden from everyone. A fire in his dormitory (at private school no less) made it unavoidable to show off those wings in order to save some fellow students, though he donned a blonde wig to keep his identity secret. Clearly this private school didn't have the brightest students because they were totally fooled by the wig, and Warren later became the costumed adventurer known as the Avenging Angel. Exactly what he is avenging isn't clear.
Professor Charles Xavier contacted Worthington to ask if he would join the team of mutant heroes called the X-Men. He accepted and was known as the Angel while part of the team, where he has served on and off over the years. Later he formed his own team called the Champions and went public with his identity. Sometime after that he rejoined the other charter X-Men to form the team X-Factor, where he eventually lost his wings. And not in a good way. He did eventually grow them back, but that's a tale for another time.

Over the years the Angel has changed costumes, wings and even skin color, but this statue line is based on the classic Silver Age look of the X-Men. For this, the team sported similar costumes in yellow and blue, along with nifty boots and masks. A little known fact was that their underwear also matched and Angel was known to switch his drawers with the Beasts so his teammate would feel tight in the crotch.

The Silver Age X-Men statue series from Diamond Select is a set of medium statues celebrating the original X-Men in the style that Smilin' Stan Lee and Jack 'King' Kirby created them. Angle is the third of the X-Men, joining the Beast and Cyclops and the team will eventually be complete with Marvel Girl next and then Iceman to round it out. There is a Silver Age Magneto statue companion piece that will be released after the X-Men, so they can be properly menaced in the mighty Marvel manner.

Rudy Garcia sculpted the Angel and the rest of the statues in this line, as well as the Ultimate Storm bust from Diamond Select. A design feature for this line is that the statues can be displayed alone, but are designed to go together as a single large diorama, like the Alien and Predator statues from Palisades. All the Silver Age statues are scaled together, so even though the Angel is eleven inches tall he can still fit in with his buds. Each team member also includes a letter (in Angel's case it is punctuation in the hyphen) that can be placed across the front of the statue set Hollywood sign style to provide the classic logo from the comics. If you don't like logos, just don't use it since they are only attached by you. It's about choices, so if you're wishy-washy and indecisive you should buy them all and place the logo there. Problem solved.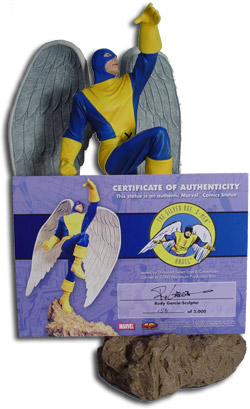 Each statue also has a full-color certificate of authenticity, though it doesn't extend beyond the visible colors of the spectrum. The certificate is signed by sculptor Rudy Garcia and numbered, and limited to 3000 pieces. Coincidentally, there are 3000 boxes of this statue with a pair of Styrofoam packing pieces in each one.
More Pictures of Angel
Where to buy the Silver Age Angel Statue: This statue is a limited edition of 3,000, and it retails in the $75 USD price range. It is available at comic book stores, as well as at various online toy and collectible retailers.