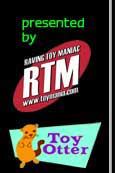 LIVING LASER
As discussed in the Saga of U.S. Agent, the Living Laser mold was originally designed as U.S. Agent. The mold was retooled to allow the addition of armor pieces and an extra accessory was included. Topped off with a new head sculpt, the transformation was nearly complete. In the prototype pictures, the head piece for Living Laser appears to have the head piece that came with the Crimson Dynamo figure. However, the final production piece had a more "horn-like" appearance to the head sculpt (See picture below). A minor difference, but easily distinguishable from what was originally shown.

The figure would become Astral Armor Professor Xavier from the X-Men: Mutant Armor series. Cast in translucent red plastic, the details are not as easily seen and the mold loses some of its strengths. Living Laser's armor pieces and extra weapon are included (though the armor is now done in silver as opposed to the original color scheme).




Living Laser picture came from the Toy Biz Products Reference Guide.