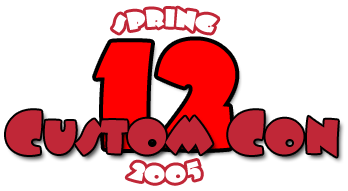 Hot from the pages of Marvel's smash hit, The Ultimates, comes a new take on Toy Biz's usual figure lines. Made in the same scale as Hasbro's GI Joe line, these figures allow maximum playability and will incorporate into playsets and vehicles while maintaining the gritty and edgy look of the Ultimate universe. Expect to see fan favorites from The Ultimates series and some new faces.
Wave I includes:
The Black Widow: Natasha Romanov
Hulk: Dr. Robert Bruce Banner
Hawkeye: Clint Barton
Iron Man: Dr. Anthony Stark
Thor: Unknown
Captain America: Steve Rogers
General Nicholas Fury
Wasp: Janet Pym
Black Panther: T'Challa
Learn more... (see the recipes)
Look for Series II in the Fall:
Falcon
Vision
World War II Cap
Captain Marvel
Giant-Man
and more to follow!
Also in the Fall, look for...
An enemy seeks to avenge his family's honor and Captain America is in his sights. Can the Ultimates stop the Ultimate Evil?
Back to the CustomCon12 main page
[FAQs and Articles] [Custom Site Links]
[Custom Central Galleries] [Custom Talk]