Raving Toy Maniac Presents
Simon's Customs
Simon can be contacted at [email protected]

The parasite
is a update of my old one with a better paint job, i just forgot to put the armbands that he has, but ill do that someday.
Anti-Kryptonite Superman
i used a deep dive superman helmate, and i cut of superman legs at the knees and did the same for martian manhunter then i combined them with sculpy and glue so supes would look taller, i also updated his paint job, for clark kent, its a basic head swap and a two face repaint, for BNW superman i used undercover bruce wayne legs, and a capture net superman torso and arms and head, and i just repainted it and printed out the emblum.


Captain Cold
i used a flash body, and some eskimo dudes head i found at big lots.

dead shot
i used a amazo body with a flash head that has sculpy on it, and his arm things are from a tornado batman from the btas line, his amo on the side of his legs are from glider robins glider from the btas line.
The Group shot of my villians is ausome dont you guys think, maybe you guys can arrange them like that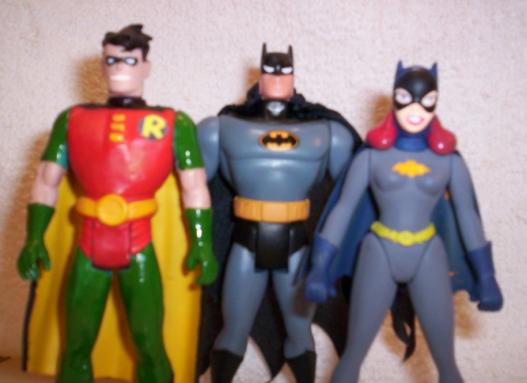 animated robin
I used a skyblast robin, because the belt is animated style I dremeled the details, then i used the first robins arms and legs, and a wonder woman cape, and a nice paint job, he came out great, for batgirl its just a repainted sonic stun batgirl.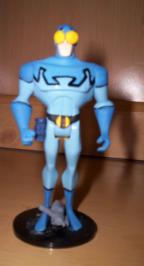 Blue Beetle
i used a starman figure, i dremeled down the hair and drew the details on with marker, i cut of the tops of erasers on the top of my led pens, and crazy glued them as the eyes, came out pretty good.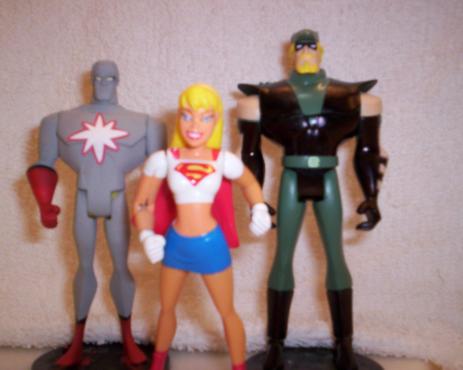 Captain Atom
i used a waverider head, and added hair with sculpy, and that was it, its pretty much ready right when you take it out of the package.
elongated man
i used sculpy to extend his head and arms, i wanted him to look different on the shelf, so he looks good now.
the justice lords

martian manhunter, i dremeled off the details and added its belt and emblum with sculpy, for jlords superman, i painted its details and printed out its sign, I used a batman cape, green lantern came out as a dark skin brother instead of light, oops my bad lol, but it came out good, umm i just repainted him and added its rings on its arms with sculpy. hawkgirls head was dremeled down then added sculpy to make it round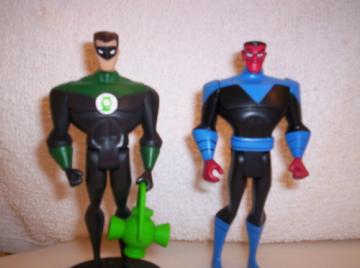 kyle rayner

i used a nightwing head, I dremeled his hair down and made his face mask straight.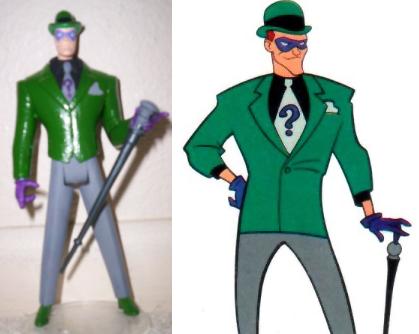 the riddler
i used a mcdonalds riddler head and a two face body from the two packs, I needed a riddler that looks animated on my shelf, i think he came out shway, so i love him.

Star Sapphire
was made with a ww first version, her mask is a printing paper cut out, so are her eyes, her gloves are sculpy.
(i fixed her eyes, and gloves, she looks alot more accurate now)
Superman Customs
[FAQs and Articles] [Custom Site Links]
[Custom Central Galleries] [Custom Talk]
[Home] [News] [Forum] [Features] [Columns] [Archives] [Custom] [Newsletter]
[Shop Center] [Chat] [Resources] [Contact] [Sitemap] [Privacy] [Toy Shows] [Links]