Raving Toy Maniac Presents
Quinn Rollins' Customs
Quinn can be contacted at [email protected]


Kermit the Borg
One of my first Muppet customs, this was made in tribute to Star Trek: The Next Generation's Captain Picard getting assimilated into the Borg collective; a great moment for the series, and a great thing to do to the Frog. It's Sculpey, Legos, and a few random pieces of plastic all mushed into a Series 1 Kermit figure and then painted.
Angel Piggy

This was originally going to be part of a Christmas-themed set, but turned into part of a duo; a Series 1 Piggy repainted white with iridescent 3D glue on the dress for details, wings and halo from a craft store.

Devil Piggy
This became the other half of the Angel/Devil set: she's a Series 1 Piggy with her dress cut short, and Sculpey details like a tail and a horns-headband added. Still looking for a good pitchfork for her, since her current bamboo skewer/Sculpey pitchfork is an abomination.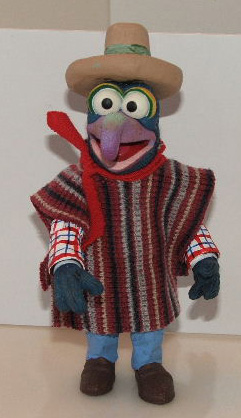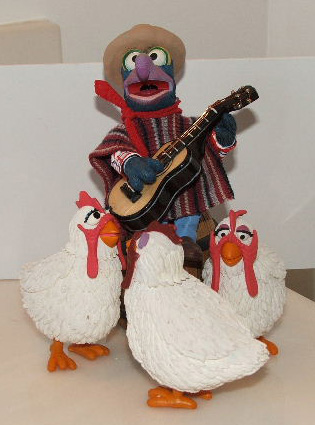 "El Condor Pasa" Gonzo
From the Paul Simon episode of The Muppet Show, where Gonzo tried his hand at songwriting… It's a Series 5 "Purple Tux" Gonzo. The straw hat is made of Sculpey, he's repainted, and the poncho and scarf are from old shirts. The little guitar started out as a refrigerator magnet.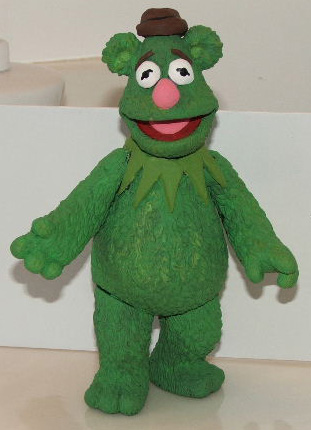 "Kermit and Fozzie's Dad"
One of the running gags in The Great Muppet Caper is that Kermit the Frog and Fozzie Bear are actually brothers…in a very brief scene at the beginning of the movie, we see what their "Dad" looks like. And it's something like this. Scary stuff, made with a Fozzie Bear figure and lots of Sculpey and green paint


Adult Skeeter
One of the problems with the Muppets is that there aren't many female characters…once Piggy, Janice, and Camilla the Chicken were in the line, there was pretty much a guarantee there wouldn't be more. So I took Skeeter (Scooter's twin) from the Muppet Babies cartoon, and aged her into what I thought she may look like as an adult. She's the Series 3 Scooter figure with glasses removed (LASIK Surgery), and then eyes and other details added with Sculpey. I may go back and do a Skeeter 2.0 at some point—this was one of my early favorites.
Beaker in Carbonite

This was an experiment more than anything, so it was fitting that it would happen to a Beaker figure…I wanted to see if I could use Plaster of Paris to make a custom, but hadn't ever used it before. That combined with my love of Empire Strikes Back meant that someone was going in Carbonite. It's just Plaster of Paris, paint, and disposable razor covers on the sides.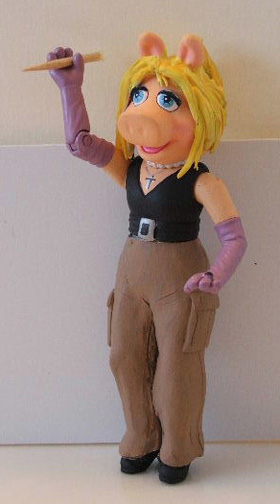 Piggy the Vampire Slayer
In the last year or so I've discovered "Buffy the Vampire Slayer," and since I can't take it back, I figured I'd bring the Muppets to Sunnydale. Simply a Series 1 Piggy, with the dress removed, pants and hair Sculpeyed on, and a bamboo skewer stake.
Snowman

One of my few "from scratch" customs—this snowman was in "Muppet Family Christmas" and was paired up with Fozzie Bear in a comedy team. He's just Sculpey and paint.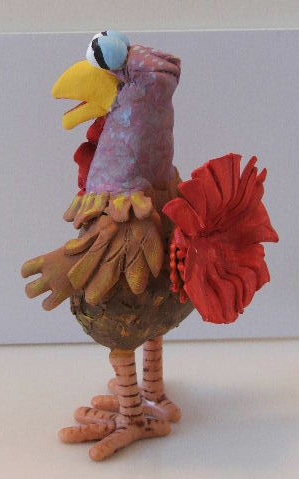 Turkey
Another "from scratch" custom—the turkey was also in "Muppet Family Christmas," and was trying to avoid having the Swedish Chef turn him into their Christmas dinner. He started life as a Rocky the Rhode Island Red Rooster from "Chicken Run," and has a new head, tail, wings, and details sculpted in.
Chicken Dance Gonzo

This is based on someone's off-hand comment that instead of making Chicken Dance Elmo toys, they really should be making Chicken Dance Gonzos…so I obliged their sick fantasy. It's a Series 2 Gonzo with a bunch of Sculpey and paint.
Frog Scout Steve

I wanted more Frog Scouts, and since they weren't coming yet (they are in 2005), I thought I'd make a geeky one. He's got all the merit badges, he's got the acne…and I named him Steve. Sculpey and paint.
Singing Cheeses

Since the Muppet Food wasn't coming fast enough for my liking, I made these five cheeses…They were featured in the Andy Williams episode of The Muppet Show, but I just made them because…they were easy shapes to sculpt.

X-Files Kermit and Piggy
Another of my favorite tv series—with Kermit already in a trenchcoat, it became a no-brainer. Kermit was simply repainted, Piggy had to have her suit, pants, and hair resculpted and painted.
Modern Animal

A repaint of the black t-shirt Tour Animal from a few years ago—this is how Animal appeared in "Muppets From Space" and "It's a Very Merry Muppet Christmas Movie"…I also repainted his hair to give him a few more colors instead of the standard Animal head.
Piggy Leia

She was a must-have…as she appeared in the Mark Hamill episode…ears sliced off, buns and cuffs added with Sculpey. We may see more Star Wars customs from me down the road. Because goodness knows, one obsession (or five) is never enough.
[FAQs and Articles] [Custom Site Links]
[Custom Central Galleries] [Custom Talk]
[Home] [News] [Forum] [Features] [Columns] [Archives] [Custom] [Newsletter]
[Shop Center] [Chat] [Resources] [Contact] [Sitemap] [Privacy] [Toy Shows] [Links]