Batgirl
She is the one from The TRU exclusive Attack of the Penguin 4-pack, just painted to hide the uniform tears.

Captain Marvel
Head: JLU Superman (sanded head down and repainted)
Body: JLU Atom Smasher (painted, wrists, belt and lightning bolt is Scotch plastic tape. Boots are painted)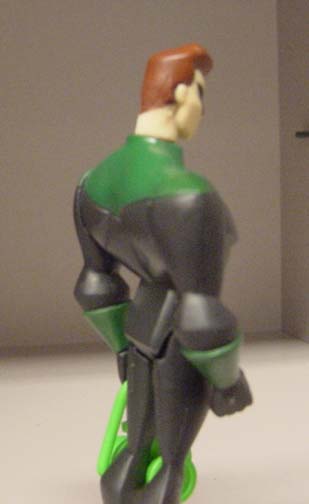 Green Lantern (Kyle Rayner)
Body: JLU Green Lantern
Head: Mattel Nitghtwing (read removed, sanded off long hair and painted)

The Parasite
Head and Body: JLU Waverider (body painted and stripes are Scotch plastic tape

The Question
Body: Mattel Two-Face (painted)
Head: JLU Starman (Top of head sliced off and face was sanded and painted)
Coat: Hasbro Undercover Bruce Wayne (painted and trimmed to fit)
Hat: 1995 Robocop figure, Pudface (sliced off, painted and glued)
Batman Beyond (Terry McGinnis)
I wanted to make a Terry in the same scale as the Justice League to go with his appearance on the episode "Once and Future Thing" Part II.
Head: A Mission Masters Batman Beyond.
Body: Mattel Nightwing painted black.
The Bat symbol was cut out of Scotch plastic tape.
The buckle was sliced off the Mission Master figure as well.
Capt. Atom
Full Body: JLU - Waverider painted
Hair: Kneadatite
Symbol: Printed off the computer from
Inanimate Objects
.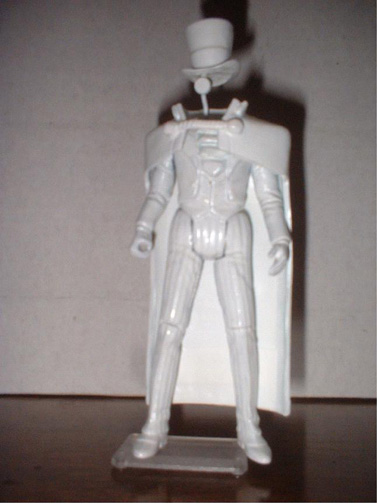 Gentleman Ghost
Hat: Hasbro Mad Hatter
Bdoy: Super Powers Joker
Cape: Hasbro Ras' Al Guhl
Monocle: White paper clip with top of a Lego piece
Ruffles on his shirt are Kneadatite
Livewire
Full body: Mattel Catwoman
Hair and top of gloves: Kneadatite
Stargirl
Full body: JLU Supergirl with trimmed hair
Star: Cut out of Scotch Plastic Tape