ML Judge Dredd & Bike
The figure itself is made from a marvel legends Namor with details from the original Judge Dredd figure.
The bike is made from a Spidey bike with Tonka toy wheels and alot of car body filler.
The Mighty Thor.
Its a wrestler figure with a sculpted head, super man cape, & milliput detailing
King Pin
the head and body are sculpted moulded & cast out in a two part plastic (fast cast),the arms jacket & lower legs are from a wrestler figure & the upper legs are barbie thighs with car body filler to fatten them up a bit
Slaine
the thinking mans Conan from 2000 ad .
sculpted, moulded, cast out, jointed & painted
Shadow Cat (with Lockheed)
thats an Abby Chase (Danger Girl) head, A dremmeled down Eowyn(LOTR) body & arms with sculpted cloth top in millilput,Eowyns ball socket hips blended on to Galadriel (LOTR)s legs with one of the Charmed girls figures hair, the Lockheed was sculpted & moulded, castout & jointed at the head arms & tail
Marvel Legend style Batman

The head and fist is an angry Superman from DC Direct line, the body is made from a Dare Devil (Marvel Legends) with the up in the air shoulder articulation taken out. The shoulder is then put back in at a more realistic angle and the chest and thighs broadened with Milliput.
The belt is from Judge Anderson from the discontinued 2000 Ad line and the buckle is from a swimsuit Lara Croft. The ears and cape are from an existing Batman figure, along with glove spikes.
Phoenix
The head is sculpted, moulded & cast out in fast cast (two part liquid plastic),the arms & shoulder sockets are from a Charmed figure, the body is sculpted out of milliput & the legs are Spider-Man legs with Danger Girl Sidney Savage's calfs & feet. A little bit of filling & re-shapin with milliput primed then painted.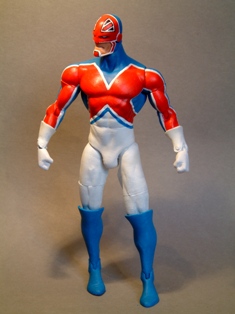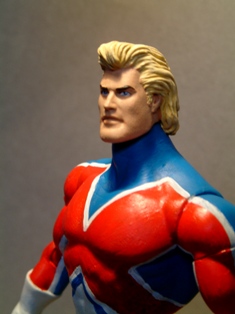 Captain Britain
Made from a DC direct Super man, sculpted & moulded the head,filled in the super man sign,& sculpted the boots with milliput,sanded primed & painted. The maskless head is the original supe head with hair done in milliput & re-painted paler (theres no sun over here in the UK )