Raving Toy Maniac Presents
Lord Cable's Customs
Lord Cable can be contacted at [email protected]
| | |
| --- | --- |
| Apocalypse... Ah, used to be a favourite baddie of mine... But when the ML figure came out, Oh I was disapointed... Everything was so wrong with that figure... the paint scheme, the details... So I tried to fix it as much as I could without totally resculpting him.. Gave him a Grey and Blue paintjob and reverted the ball jointed hips. | |
Ultimate Batman

Most people do a custom Batman. Some of them even try to make all Batman costumes or interpretations( like Iron Cow)...But the problem is I didn't want to make yet another Batman. So I designed a costume that I would actually make for an Ultimate Batman... Dropped the cape and gave him a
trench coat, but still did the bat thingie on the bottom of it anyway.
Bullseye

I hated the size of the head that Bullseye sported in his original
release... So I resculpted an unmasked Deadpool head and gave it to
everybody's favourite psycho...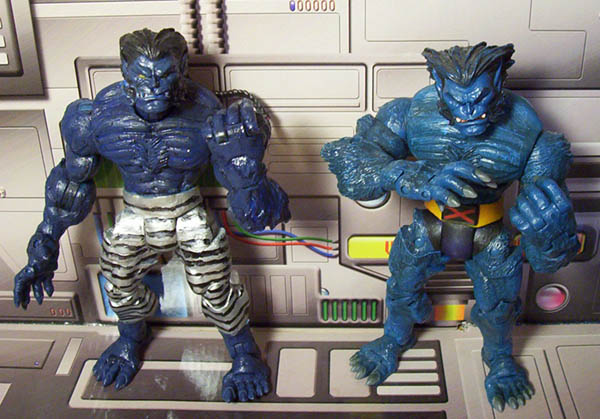 Dark Beast
One of my early customs... Took me a year to finish it because of a lack of
Dremel. I can't say I love it because of all the flaws... But I keep it to
remind me the time I didn't have a dremel ehehehe...
Kip Killigan

Commando from the movie Small Soldiers. My first attempt at a headsculpt.

Used an Ultimate Cap for this custom.

Smart Hulk

I love Smart Hulk, due to the fact that he protected me on a car accident...
Got hit by 2 semis and a van, car was totaled, but me and my parents were in
one piece and only had few scratchl, but my first Smart Hulk was totally
destroyed.. Then my friend Stephen Eley gave me a brand new one, and I knew I had to tweak it ... So now Smart Hulk doesn't have shoes anymore and sports some funky purple pants baby!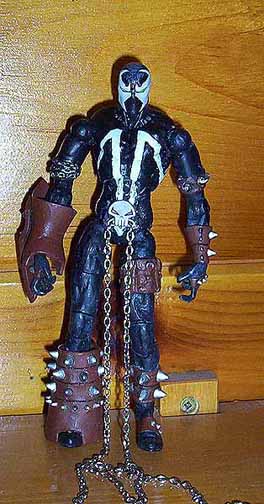 Spawn
I never really liked any of the articulated figures that Mcfarlane put out... The Buckle is not accurate, but I liked it better than the buckle this specific costume is supposed to wear... So I basically have him more motion in the hips and arms, and now he is ready to kick some ass !!!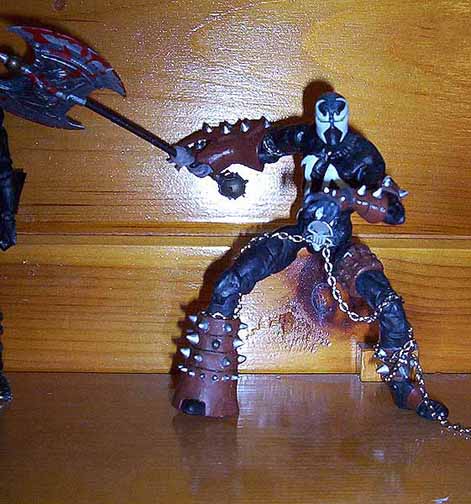 Ultron and Captain America

Ultron was basically a Lowe's Ultron rip off difference was the He Man
hips... And Captain America was only a modification of the ML8 one, with a ML 1 Head.
War MAchine

Small War Machine mods. Painted the leg black, added new close fisted hands.

[FAQs and Articles] [Custom Site Links]
[Custom Central Galleries] [Custom Talk]
[Home] [News] [Forum] [Features] [Columns] [Archives] [Custom] [Newsletter]
[Shop Center] [Chat] [Resources] [Contact] [Sitemap] [Privacy] [Toy Shows] [Links]