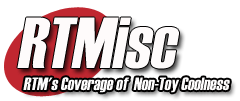 Cobra Commander Statue
Good and evil, there never is one without the other. Or in the words of Lao-Tzu, 'what is a bad man, but a good man's job?' The concept of good relies on the concept of bad to give it meaning. And so it is with Cobra being the job of GI Joe. And with any group of people, you see a central leadership to call the shots, and in this GI Joe and Cobra are remarkably alike.
The leader of Cobra is Cobra Commander, who makes up in meanness his lack of creativity in title choice. The man who would be commander, started out as your average middle-class American, and these unremarkable origins perhaps reflect the potential for corruption in all of us. He worked as a used car salesmen, no doubt early training to manipulate and control people. He built his own business though it wasn't that successful, perhaps a harbinger of the lack of success for Cobra. Let's see, your leader is a former used car salesmen with a failing business - sounds like leader material to me!
Like many characters, the death of a loved one is the catalyst that transformed him from average American to terrorist leader. In this case it was the death of his brother in a car accident. His brother Dan had served in Vietnam, reenlisting to ensure his brother would not have to serve and risk his life. All this time in country warped Dan's mind creating in him a death wish, one that he acted out when he was home in the form of risky behavior. Stuff like driving fast and recklessly, drinking heavily and pulling the mattress tags off of other people's mattresses! This behavior would catch up with him, though before he could be punished 'under penalty of law' he had a head-on collision while driving drunk. Under the law of character economy, the other car was filled with relatives of Snake Eyes, who were killed on impact along with Dan.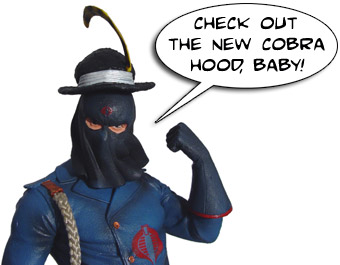 Obvious to us is that Dan's death, while tragic, was more like a suicide with manslaughter thrown in against some innocent people. To the future Cobra Commander (who we will call Ted simply to avoid typing out Cobra Commander), this was obviously some plot from Snake Eyes, who must have had his friends get Dan drunk and then convinced his own family to collide with his car, sacrificing their own lives to kill their hated enemy, who they had never even met or heard of. At first it just sounds like trying to justify a random act, but in the end that's pretty much exactly what it is.

So, flying off the handle, Cobra Commander goes out and hires the local assassin (Firefly) to kill Snake Eyes. Even though he isn't successful in killing Snake Eyes, the experience allows Ted (our clever short version of Cobra Commander) to start networking with plenty of other oddly named, and generally unwholesome characters. From there a complex series of events occur that eventually culminates in the creation of Cobra, with good old Ted (yep, really Cobra Commander) as the head. But here's the 'See Jane Run' version:

See Ted (aka Cobra Commander). See him run. See him hate. See him find small town. See him trick other people. See him get popular. See his ego grow. See him start evil organization. See him in charge. See evil group expand. See Jane run. (Just seeing if you were paying attention.)

At this point you're wondering, 'why all this exposition for a statue', and in the immortal words of John Belushi from Animal House (available now on DVD) - 'why not?' Now, on with the show!

The statue of Cobra Commander is the first in the GI Joe line from Palisades Toys, joining an already impressive line-up of mini-busts (including Storm Shadow, Snake Eyes, Baroness, Roadblock and Destro) and one full-size bust (Snake Eyes). The good news is that Cobra Commander is followed by General Tomahawk, Zartan and the Crimson Guard. The bad news is that only Hawk and Cobra Commander will be in the same scale, with future statues built on a smaller, six-inch scale. The smaller scale is about as close as you can get to having six-inch figures of GI Joe (besides the excellent Special Forces figures), but it means your statue display for Cobra won't fit in perfectly since the later statues will be much smaller.

This statue is just a hair under a foot tall if you include the base, though the actual character is 9.75 inches tall. Like many short guys, he uses the base to make him look taller and more attractive to potential recruits. The base is a mock stone stand with a nice Cobra symbol carved in relief on the front. On the bottom of the base is the number of this statue (of 1500 produced), so you won't get it confused with someone else's when you have a statue party.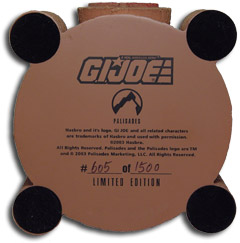 The first thing you have to admit about Cobra Commander is that he's got a mask fetish. He's worn a variety of hoods, helmets and masks over the years to make sure you think he could be anyone under the hood. For this statue he goes with the modern executioner's hood look, though some may draw parallels to Dumb Donald from Fat Albert.
There's a high amount of detail on the statue, including folds along the cloth and even stitching down the back. Even the buttons on the jacket have two small holes where they would be threaded. He has an actual braid attached to the right shoulder and real fists for each hand. That's because this guy is really mad at the world, and he's too young to get arthritis. The sculpture is complete with a handgun at the waist and several belts both on the left leg and waist. So what's the deal with all those belts?
Credits
You probably want to know who's responsible for this statue, and we're more than happy to help out! Any responsibility we can assign to others is less for us! So, without further ado, the statue was developed by Kenneth Lilly, sculpted by Andy Bergholtz (you can see his other work in the Ultimate Captain America bust and a Dawn bust and statue from Diamond Select), with prototyping and paints by Plan B Toys. The package was designed by Keith Wilson and Greg Leeuwen with painted art supplied by Dave Dorman. No snakes were harmed in the making of this feature, though we really thought about it...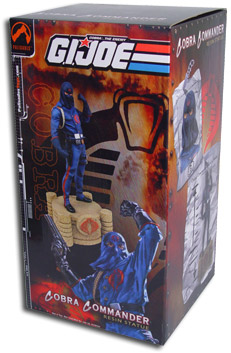 More Pictures of the Cobra Commander
Where to buy the Cobra Commander Statue: This statue retails in the $100 to $120 USD price range. It is available at trend and specialty stores, as well as various online toy and collectible retailers.

Several such online stores are RTM sponsors Big Bad Toy Store, The Outer Reaches, and Action Figure Xpress. (Be sure to check the other RTM sponsors, listed on the Shop Center.)