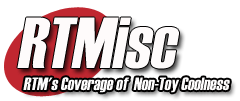 GI Joe:
Destro Mini Bust
War is an exercise in strategy and tactics, but also one in technology. The advance of weaponry and weapons delivery systems has changed the face of war so that bombs may be dropped with pinpoint accuracy and every soldier can be an army of one. In order to use all these technological toys you have to buy them and have them made. If you've asked of Cobra 'where do they get those wonderful toys?' the answer leads straight to one man. Destro.
The Destro clan (or would it be Clan Destro) started in Scotland as weapons suppliers. Civil wars are great for business because you have two local buyers, but the down side is that when one wins they might not like that you were selling weapons to their foes. That's exactly what happened to the Destro's and they were punished by being forced to wear a steel mask. The clan turned this into their symbol for the head of the clan and kept wearing it. Hopefully, they take it off to get it cleaned out once in a while, because no one likes helmet stink.
Eventually MARS (Military Armaments Research Syndicate) was created to continue to supply weapons to the needy (or just people with the finances) around the world. They are the largest manufacturer of advanced weaponry in the world of GI Joe and have even been known to supply water guns to kids. They are everywhere.
The current Destro took over the reins of the family business after his father died, and this lead him into contact with Cobra. At first it was just selling weapons to the group, but as time went on Destro wanted a bigger and bigger role. He became the official supplier of weaponry to Cobra (and the Olympics) and used that to leverage a position as a field commander.
His ambition made Destro a threat to Cobra Commander, and so CC decided to get rid of Destro by killing him. He hired Major Bludd to do the deed during a battle (making it look like an accident) but Destro survived when the Baroness took the blow and saved him. She has a previous relationship with Destro that is a mystery but obviously garnered loyalty. She and Destro are clearly attached to each other and if they ever get married they are planning to have their own pair of Muppet exclusives for the wedding guests like Ken Lilly (wannabe member of the shiny head club and Palisades Product Designer).
Destro's fashion influences range from Liberace to Mr. T, and you can see it in his stunning collar and jewelry. A little known fact is that his necklace has a mood stone in it that turns red when he wants to make money or kill something. It's always red. In dealing with factions around the world, Destro has had to become a cunning linguist and his steel mask is often marked with the Baroness's fingerprints. Lots of fingerprints...

Destro gives Cobra a numerical advantage in the GI Joe mini-bust line from Palisades Toys, making the score three (Baroness and Storm Shadow are the other two) to two (Roadblock and Snake Eyes). Joe will even things up with the next bust in the line (Scarlett) and then go down by one when Cobra Commander is released after her. The mini-busts will be joined with a line of large statues, small statues and life-size busts. There is a toy line out there somewhere as well...

The line of mini-busts is a study in styles, with each bust getting a different look to fit the character. Classical sculpture often resorted to either simply a head portrait or a full statue, but Destro is a union of the two. He has both arms (crossed) and half his torso, and is in a posed, relaxed posture. Cobra companion Baroness only has one arm and a gun, Storm Shadow has no arms, Snake Eyes has two arms in an action pose and Roadblock is without arms or any kind. One thing he does share with the rest of the busts is the window box packaging and the standard Cobra base (round versus the squared Joe base).

To make sure all the mini-busts have the same look, Palisades has emplyed the same sculptor for all the GI Joe busts so far. Jon Matthews has been the go-to guy, and he has been aided and abetted by Plan-B Toys in painting and prototyping. Palisades also brought in the Chinese, to make 3,000 copies so they could sell them to you!

There is a variant version of Destro planned with a chrome head, and it will be exclusive to Wizard Entertainment. You can always customize one with aluminum foil polished to a high shine, if you are so inclined.
More Pictures of Destro