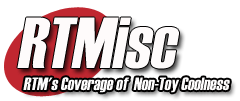 GI Joe:
Baroness Mini Bust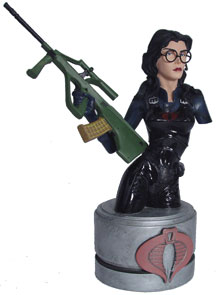 Good girls may go to heaven, but bad girls go everywhere. One of the bad girls is the Baroness, Cobra's intelligence officer and their sexiest agent around. She has a body that won't quit, with plenty of curves, and she wears skin-tight black leather. She's usually armed, she's smart and she has long, lustrous black hair and a cool, mysterious name. All these traits would be enough to ensure her sex appeal, but she has just a little extra to make sure. It's the glasses that make her look like that quiet librarian you always had an eye out for, knowing that under that seemingly calm exterior she was a wild woman!
Her real name (at least one she may admit to) is Anastasia DeCobray and she was a spoiled brat who grew up in Europe. Her name sounds a little French, and Cobra's lack of victories might support that, but she doesn't surrender so she can't be French. However, the French do have a few words that describe her to a 'D', including derriere and décolletage. The American terms would probably be along the lines of dominatrix and D-cup.
Just being spoiled doesn't make her an evil person, but events in her youth quickly helped push her over to the dark side. The death of her brother while he worked on humanitarian efforts at what looked like the hands of Snake Eyes really was the catalyst. That led her on a bitter path into an international terrorist and eventually to Cobra.
Once she joined Cobra she worked her way up in the organization and became a trusted aide to Cobra Commander. When Cobra Commander brought in Destro, who the Baroness had a previous relationship with, her loyalties began to be tested. She seems to lean more to Destro than Cobra Commander, but she has been known to play the two off one another for her own advantage. She was burned saving Destro and eventually had extensive cosmetic surgery in Switzerland. Obviously, they did a great job.
The Baroness is an expert in small arms, armor and even is an accomplished pilot. She's an intelligence expert and makes the best banana bread you've ever eaten. She also uses Turtle Wax to keep her armored suit at a high shine.
The Baroness is the third mini-bust in the GI Joe line from Palisades Toys, and she's the first woman of the line. She followed Storm Shadow and Snake Eyes, and after her, the next mini-bust will be Roadblock from the GI Joe team, then Destro for Cobra, Scarlett for Joe and Cobra Commander. The GI Joe license covers statues and busts, so Palisades will be branching out with the line to create a life-size bust of Snake Eyes and large statues of Cobra Commander (April 2003) and Hawk. They have created a line of six-inch polystone statues starting with Zartan (due around September 2003) and then the Crimson Guard. Images of some of these are in RTM's Toy Fair coverage.
The series of busts that Palisades has created for GI Joe doesn't use a standard aesthetic and different characters may be sculpted with or without arms, and through varying parts of the torso and body. The choices along the line are the consequence of product manager Ken Lilly's decisions, and the line has an individual flavor as a result.
For the Baroness, she has been sculpted with more of her body and only a single arm. The reason for more of her torso being in the statue is clearly to show off more of her body. She's a sexy woman, and ensuring that curves above and below the waistline are there make sure you don't forget it. She does need an arm to hold a gun (and a big gun at that), but the other is omitted to ensure a clear view of the rest of her body. She has her headset for relaying information, and she's on a round base with a Cobra logo across the front. The base is the same as that of Storm Shadow, so the two can be displayed together and fit right in.

The decoration on the mini-bust combines glossy and flat paints. This makes the leather parts of her outfit stand out and gives them a realistic look. The shirt she wears is flat, approximating cloth. The result works well on the piece and makes her stand out.

The package paintings were done by Dave Dorman and the Baroness portrayed in them differs slightly from the one on the mini-bust. The painting has an ornate belt buckle with a cobra on it while the mini-bust doesn't. The sleeves on the painting have Cobra insignias near the wrists while the mini-bust has the Baroness wearing sleeved gloves that would cover that up. And the Cobra insignia on the painting is much larger on her chest than the mini-bust, or the mini-bust has a much larger chest. You decide.

Jon Matthews sculpted both Storm Shadow and Snake Eyes, and he continues his work with the Baroness. Jon has done other work for Palisades on the Resident Evil figures. The prototyping and paints were done by Plan-B Toys, who have had a long collaboration with Palisades Toys. And they are huge GI Joe fans, which shows.

The Baroness is limited to 2880 pieces, and she comes packaged in a window box so you can actually see the mini-bust before you buy it. The window is a great way to keep the piece unopened if you are so inclined, and to promote impulse buying. It also makes a handy prison for action figures.
More Pictures of the Baroness
Where to buy the Baroness: This mini bust is a limited edition of 2,880 and it retails in the $30 to $45 USD price range. It is available at trend and specialty stores, as well as various online toy and collectible retailers.

Several such online stores are RTM sponsors AisleSniper.com, Big Bad Toy Store, The Outer Reaches, and Beanstoys.com. (Be sure to check the other RTM sponsors, listed on the Shop Center.)