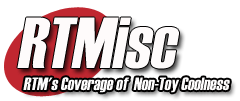 Ultimate Captain America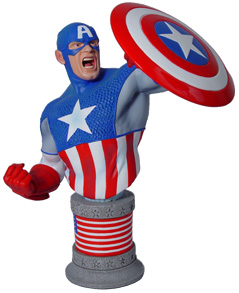 It's been said that change is good, but the truth is that some things are perfect right from the start. You can change the character a bit, and maybe decorate it differently, but if the concept and design are sound it can last forever. One of these concepts was Captain America, and the new Ultimate Marvel version just builds on the solid foundation laid in the past.
To compare and contrast the original and ultimate versions of Captain America is like looking in a mirror, but one that isn't perfectly flat. Both are Steve Rogers, a recruit that was sickly and weak and wanted to serve his country so badly that he was willing to take the experimental super-soldier serum. Both fight with a shield, a weapon of defense that embodies America's ideals of only defending itself. Both men wear a costume that has the American flag emblazoned on it, and they both have a sidekick named Bucky Barnes. The original Cap's partner is dead while Ultimate Bucky (if such a term is accurate) is still alive and married to Steve Roger's former fiancÚ. The Ultimate Captain America is also a harder man than the original, in the sense that he seems more willing to dispense violence and he's been known to use a gun as well as other more overt weapons.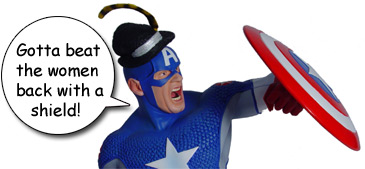 The history of each character is familiar, but there are subtle differences added to the Ultimate Captain America. Steve Rogers was transformed into Captain America via the super-soldier formula, probably the only 'enlargement formula' that actually works besides junk food. With a perfect body he was trained to be the ultimate human weapon and the living symbol of America. The Ultimate Cap fought with the troops in World War 2, armed with a helmet and uniform that was less a costume and more a stylized uniform. He was armed with a shield and used a Thompson machine gun to fight the Germans throughout Europe. His final mission was to destroy a German research lab in Iceland that had a rocket armed with a nuclear weapon. The missile was destroyed and Captain America was thought to have sacrificed his life to stop it.

Now, fast forward almost sixty years and you will come to a world where Captain America is still held in high regard as a hero, and where a new team of state sponsored heroes has been formed called The Ultimates. One of the goals of the program has been to reinvent the super-soldier serum to create more heroes to defend America in an age of super-crime and super-terrorism. The research isn't going very well (you'd think someone would have written it down) but as luck would have it they find something even more valuable - the frozen body of the original super soldier himself in the Arctic.

After thawing the good captain out, and after he accepts that he's missed the last sixty years in suspended animation stuck floating in the ocean, he is asked to join the Ultimates and defend democracy (or at least America) once again. And wouldn't the whole frozen in the ocean and found decades later make the perfect plot for Titanic 2: Judgment Cruise where a newly revived Leonardo Dicaprio returns to have a romance with Kate Winslet's younger clone? Well, maybe not.

The modern version of Captain America is just a bit different from the old, with a costume design that is sleek and modern but still incorporates mail armor and the good old red, white and blue. The modern version also uses the round shield, and this opens up opportunities for throwing the shield and serving eight people at the same time. For this bust Cap is poised in mid-battle, with his shield up to ward off some unseen blow. The base is designed as a stone etched rendition of Old Glory in red, white and blue. There was another version of this bust sculpted that depicts the same pose but with Cap in his World War 2 outfit.

The Ultimate Captain America is based on Captain America originally published in the forties and created by Joe Simon and Jack Kirby. To bring the latest version of Joe and Jack's star-spangled hero to the realm of three dimensions, Andy Bergholtz was brought in and he's done and outstanding job. His other work for Diamond Select Toys includes the Ultimate Iron Man bust, the Dawn bust and statues (both gorgeous) and the Army of Darkness Ash bust.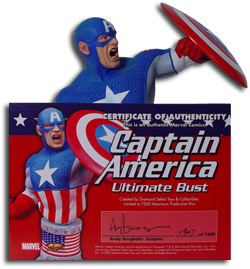 The compliment Andy's work, cloners of China (i.e. factories) have made 7500 Ultimate Captain America busts, all fully painted and packed up in boxes with Styrofoam. As an added bonus you can have a full-color certificate of authenticity that is numbered and signed by the sculptor. For best results you should not glue the bust to your hood and stick with the cling-on flags in the windows. Though it would make a great hood ornament...
This is far from the only ultimate bust of the Ultimates, and Cap is joined by Nick Fury, Iron Man and Thor. There are also plenty of characters from Ultimate X-Men, like Cyclops, Magneto and Storm as well as Marvel Girl, Wolverine, Colossus, Nightcrawler and the Beast. For Ultimate Spider-Man you have Spidey, the Green Goblin and Doctor Octopus. All the Ultimate busts are designed around the same scale, so they can be displayed together.
More Pictures of Captain America
Where to buy the Captain America Bust: This piece is limited to a run of 7500, and retails for between $35 and $50 USD. You can find it at your local comics shop and various online retailers.