[an error occurred while processing this directive]

The Ultimate Guide to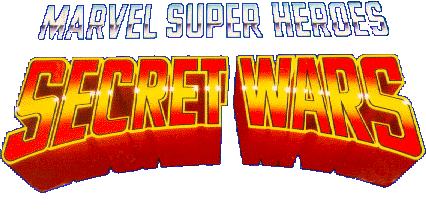 Promotional Items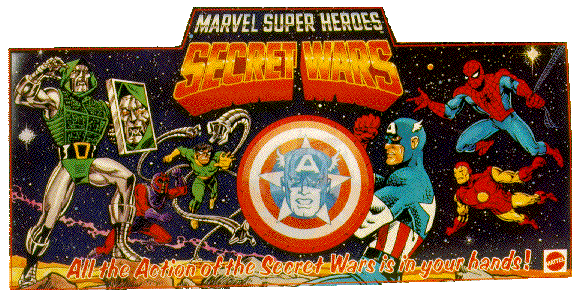 Print advertisement for the Secret Wars figures
In the rush to capitalize on the success of the Secret Wars limited series comics and toys, many other licenses were granted to produce items bearing the Secret Wars name and characters. Below is just a sampling of some of the items that were available. In addition to what is shown here, there were also lunchboxes, cups, posters and more. If you have any related items that you would allow us to display here, please drop us an e-mail.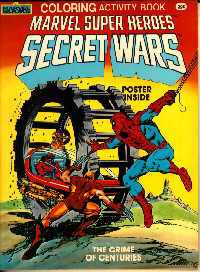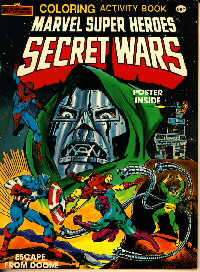 Here are two coloring/activity books. Each came with a poster inside along with numerous pictures to color, activities, and games. These books are oversized and the art is what you would expect for a coloring book. The pictures promote items in the toy line such as figures and accessories.
This is a patch bearing the Secret Wars logo. This was part of a larger line of patches bearing the likenesses of many of Marvel's characters.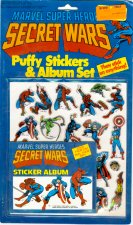 This is a set of Secret Wars puffy stickers. Lot's of puff. Lot's of stick. Lot's of fun!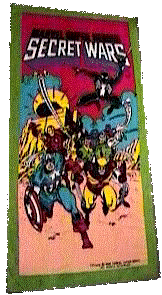 This is a Secret Wars beach towel. According to some sources, this is a very hard to come by piece of Secret Wars memorabilia.
More Puff! More Stick! More Puffy Stickers! You can never have enough puffy stickers.
Here is a cool item. It's a Captain America Flying Shield launcher. Basically, it's a dartgun that you strap to your wrist. On the back was a target with Dr. Doom as the Bullseye (of course). The funniest part of this item are the Safety Rules on the back. Rule Number 1: "Treat every launcher with the respect due a loaded launcher." You tell 'em Aretha!

Credits: The coloring books and patch were donated by James Lomax. Mr. Lomax also contributed the photo of the Secret Wars beach towel.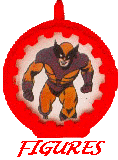 Figures | Vehicle & Accessories | Comics | Promotional Items
Back to the Secret Wars Index