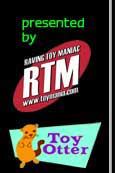 WHIRLWIND



Click on card for a bigger picture




A mutant with an unusual talent for spinning at high speeds, David Cannon exploited his gift over the years as a schoolyard bully, petty thief, pro wrestler, circus performer and ice skater. When he was warned to be wary of the police, Cannon expressed his scorn for the law by embarking on a career as the flamboyant costumed thief called the Human Top. Cannon later adopted the moniker Whirlwind when he realized how lame his previous name was.

Whirlwind has little snap-on circular saw blades that go on his wrists. His arms are very loosely jointed at the shoulders so that when you wind up his middle section, his upper body twirls around and his arms fly outward in a spastic dance. He is also extremely hard to get to look forward because of the mechanism in his torso.