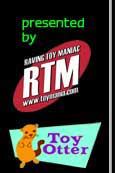 MODOK



Click on card for a bigger picture




A major achievement of AIM was the creation of Modok (Mental Organism Designed Only for Killing), an artificially mutated human being with an enormous head and a stunted body who possesses superhuman intelligence and various psionic abilities. Modok was originally an ordinary AIM member who was selected by AIM's leader, the so-called Scientist Supreme, to be the subject of vast bionic experiments that turned him into Modok. After being transformed, Modok slew the Scientist Supreme and seized control of AIM

It's a big head. With a badly placed hole in the forehead that shoots a... "thing" when you squeeze it. Kids, it doesn't get much weirder than this.