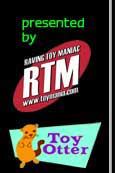 IRON MAN



Click on card for a bigger picture




Inventor, businessman, ladies' man, super hero. Gravely injured by shrapnel from an exploding mine in Vietnam, billionaire genius Tony Stark saved his own life by designing a life-sustaining shell - the hi-tech armor that transformed him into the invincible Iron Man! Today, the world thinks Iron Man is an employee - Tony Stark's personal bodyguard - and in this dual role, he faces corporate intrigue and super-powered menaces. He's a modern-day knight in armor, fighting injustice wherever it rears its head.


This armor was the current model at the time this line debuted, modified for the animated series. While it may have seemed to make sense to use the main armor from the cartoon, the toy line actually predated the cartoon's launch by a slight amount of time. So it may have helped to introduce the line with a more familiar version of Iron Man. This willingness to disregard the character's history would not bode well for the line.