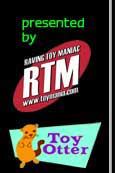 HOLOGRAM ARMOR IRON MAN



Click on card for a bigger picture




This armor (also known as the Silver Centurion armor) was first introduced in the 200th issue of the Iron Man series (although it was seen a few weeks before in the pages of the Secret Wars II limited-series). This issue featured the return of Tony Stark as the invincible Iron Man, after an absence of roughly two years. Tony's best friend, Jim Rhodes, took on the role of Iron Man while Stark lost his company to Obadiah Stane and sank into alcoholism. Fun for the whole family!

Although this armor had a relatively short life in the comics, it has remained a favorite among fans, and was quickly snapped up upon release. Except for the shape of the helmet being slightly off, this was a pretty good representation of the armor.