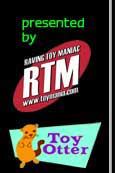 ARCTIC ARMOR IRON MAN



Click on card for a bigger picture




This armor appeared in one whole issue of the comic (for only a few panels at that!) and was created for, what else? -traveling in the Arctic.

I like this armor because, like War Machine, the silver vac-metallized pieces go well together with the silver plastic. He can launch is useful claw out of his forearm; is this a defense against polar bears or something? I applaud Toy Biz for daring to go basically monochromatic with this armor. And I always dig hoses when possible.