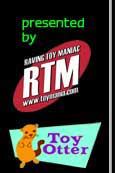 DARK AEGIS
Probably the most interesting figure from this unreleased series if for no other reason than that no one seems to know who the hell this character is. Aegis made a brief appearance on the end of the Iron Man cartoon, but never showed up anywhere else. Click here to check out the cartoon appearance.

An interesting sculpt (big) with an interesting color scheme (light green and black, with metallic yellow highlights), this figure would see the light of day as the Heavy Metal Beast from the X-Men: Mutant Armor line. The Beast's head was forced awkwardly onto the body and the color scheme was redesigned in more primary colors. The figure also came with a big-ass weapon.




Dark Aegis picture came from the Toy Biz Products Reference Guide.