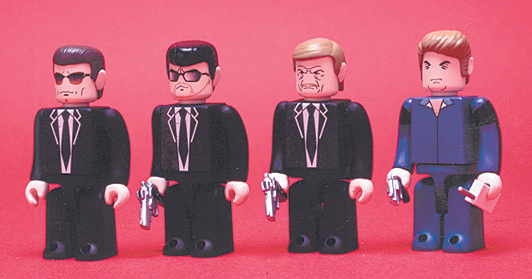 One of the most popular independent movies of all time is headed to toy shelves in the form of Reservoir Dogs Kubrick Sets, and they are available through Diamond Comic Distributors.

It was Quentin Tarantino's first film to hit the big time: the story of a group of "colorful" criminals - with fetishes for 70's music and philosophies on Madonna songs--who try to figure out who that rat was that turned their diamond heist into a massacre. As the popularity of the movie grew over time, fans started demanding collectibles to show their loyalty to their favorite anti-heroes. Previous products based on the property sold exceptionally well, and these new Kubricks should prove no different.

Imported from Japan, these Kubrick building block figures depict the ill-fated gang in two sets. Set A includes Harvey Keitel/Mr. White (with gun), Steve Buscemi/Mr. Pink, Quentin Tarantino/Mr. Brown (with gun), and Lawrence Tierney/Joe Cabot (with gun). Set B includes Tim Roth/Mr. Orange, Michael Madsen/Mr. Blonde (with gun), Edward Bunker/Mr. Blue (with gun), and Chris Penn/Nice Guy Eddie (with gun & mobile phone). Each 2 ½" tall figure features removable hair that reveals a second face without the sunglasses, and can be disassembled into their component, modular pieces. Both sets are scheduled to ship in June 2002.

Fans can find this and other great products based on today's most popular movie properties at their local comics shop, or by contacting the Comic Shop Locator Service toll free at 1-888-COMICBOOK (1-888-266- 4226) or online at http://csls.diamondcomics.com.