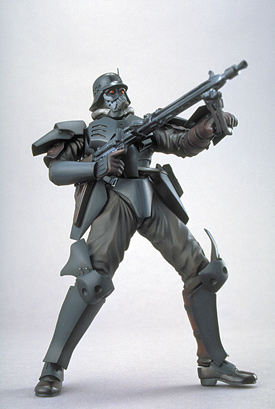 Medicom is giving fans of anime and the critically acclaimed film Jin-Roh a chance to revisit the dark, thought-provoking world of an alternate post-World War II Japan with the Jin-Roh Action Figure, available through Diamond Comic Distributors.

Considered to be the last great anime film of the 20th century (or the first great one of the 21st century), Jin-Roh (subtitled The Wolf Brigade) presents an uncompromising world where Japan lost World War II not to the Allied forces, but to the Nazi regime. Directed by Hiroyuki Okiura, who honed his skills on anime classics Akira and Ghost in the Shell, the film is considered a masterpiece and a must-see for any fan of anime. The buzz is loud in the anime community, and with the recent release of the DVD, this figure will satisfy the excitement of fans of anime and collectible merchandise.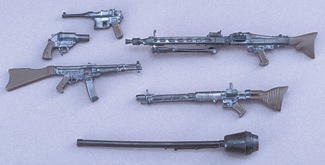 Imported from Japan, this highly detailed figure is sculpted by Kaiyodo, makers of the popular Trigun and Neon Genesis Evangelion figures, and captures the protagonist of the anime with pinpoint precision. The 5" figure, scheduled to ship in March 2002, comes complete with six interchangeable weapons and a variant, helmet-less head, and features 12 points of articulation for a variety of action poses.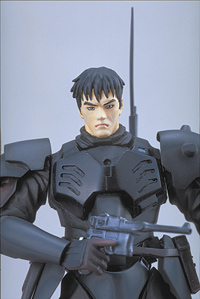 Fans can find this and other great products based on today's most popular anime at their local comics shop, or by contacting the Comic Shop Locator Service toll free at 1-888-COMICBOOK (1-888-266- 4226) or online at http://csls.diamondcomics.com.