Super Robot Anime Figures
Yujin's Master Action line continues with three hot new Super Robot action figures, all available through Diamond Comic Distributors.

Mecha anime are the focus of some of the most popular shows, models, and action figures, as proven by the fans who accumulate the collectibles from various popular properties. Consumers have fallen in love with the sleek style of previous action figures and models, and with the popularity of mecha-based anime showing no signs of slowing down, Yujin has answered the cry of the "anime-niacs," who will want to add these new figures to their collection.

The first two figures depict a pair of the massive transforming/combining robots from the super robot-satire anime, GaoGaiGar, adding to the property's impressive line of models, costumes, and OVA's. First is the mecha GaoGaiGar, which comes with three pairs of variant hands, Dividing Driver, Zonder Core, and Perfect Shade accessories. Plus the robot can be changed to "Heaven" or "Hell" modes. As the storyline progresses, the focus shifts to the second robot offered, GaoFaiGar, which comes with three variant hands, Dividing Driver, variant chest plating, and more! Standing 5" tall and featuring durable PVC construction, these GaoGaiGar figures are articulated for maximum poseability and play value!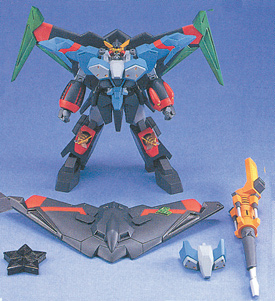 The third figure is the mecha from the hit 2001 OAV, Mazinkaiser. The newest incarnation of Go Nagai's Super Robot icon Mazinger stands 8" tall, features durable PVC construction, and is fully articulated for a multitude of action poses. Included with the figure are removable wings, a massive sword, and the Jet Scrander brain ship.

All of these figures are scheduled to ship in March 2002.

Fans can find this and other great products based on today's most popular anime at their local comics shop, or by contacting the Comic Shop Locator Service toll free at 1-888-COMICBOOK (1-888-266- 4226) or online at http://csls.diamondcomics.com.