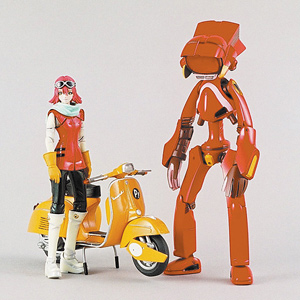 Two fantastic new figures from one of the most unique animes are coming soon, and they are available from Diamond Comic Distributors.

Fooly Cooly, created by Neon Genesis Evangelion creators Studio GAINAX, is the story about a young boy whose brother is leaving his boring life in Japan to play baseball in the U.S., when things start to get strange. Really strange. Guitar-bashing-alien-girls and robots-exploding-out-of-your-head strange. Fooly Cooly has received extraordinary reviews from the anime community for its outstanding art and unusual storyline. So far, the popular series has produced art books, novels, soundtracks, DVDs, and, now, action figures.

Imported from Japan, these figures by Kaiyodo (makers of the popular Trigun and Neon Genesis Evangelion figures) portray two of the characters from the intriguing show in all their bizarre glory. The Haruhara Haruko Action Figure is a marvelous representation of the eccentric, guitar-wielding girl, and comes with a detailed scooter, bass guitar, and case.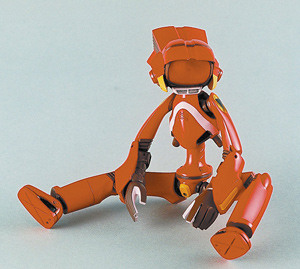 Also available will be the head-popping red robot, Kanchi, which features a variant hand and 17 points of articulation for a wide variety of poses. These figures are scheduled to ship in July 2002.

Fans can find this and other great products based on today's most popular anime at their local comics shop, or by contacting the Comic Shop Locator Service toll free at 1-888-COMICBOOK (1-888-266- 4226) or online at http://csls.diamondcomics.com.