Kaiju Bossy Bear Attacking in May 2011
ALERT: Bossy Bear to hit the US shores in May.

April 2011 - Bossy Bear, the demanding character from the mind of David Horvath, has transmutated into the 5" Strange Beast Bossy Bear or as witnesses have dubbed him – Monster Bossy Bear! With an SRP of $20, your chances of catching one is good but act fast as there have been rumors of multiple versions as well as the Roseus (or Pink) version sighted.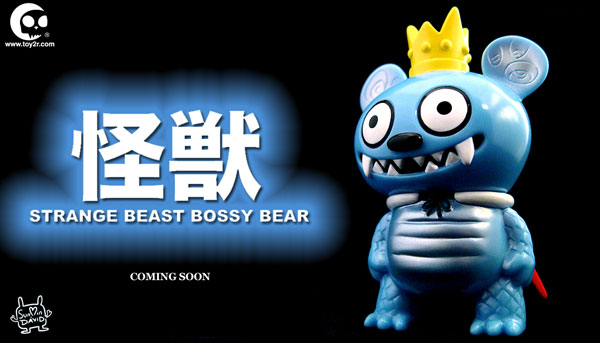 Altering from his earlier form into a higher state – that of the Kaiju form – Bossy Bear is now more formidable than ever. As part of Toy2R's scheduled releases for 2011, the Monster Bossy Bear Assortment will delight fans of both the classic form and new fans of his Kaiju inspired look.

Two versions will be released in the assortment – the Classic Blue and the Roseus (or Pink) edition. Fans should be on the look out for variant versions within the assortment as one can never be sure what mood Bossy will be in.

Wholesale orders being accepted by the armed forces of The Apex, so contact them immediately with your orders: [email protected]

Good luck to us all!