Fansproject, Bandai Japan, God Sigma, Mr Potatohead at Big Bad Toy Store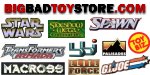 April 6, 2011 - (Sponsor Announcement) - Online retailer BigBadToyStore.com has several new items of interest to collectors:

Hi - Here is a quick update from http://www.bigbadtoystore.com about a variety of new arrivals and more cool new preorders:

-------------
NEW PREORDERS
-------------

FANSPROJECT CAUSALITY CA-01 WARCRY, CA-02 FLAMEBLAST These two new transforming robots are redecos of the Munitioner and the Explorer from the Crossfire line, with slight remolds and different accessories. Each piece is listed at $44.99, and they are set to release later this month.

GX-60 SPACE EMPEROR GOD SIGMA The newest Soul of Chogokin release is God Sigma from the anime of the same name. This figure splits into three different robots as well as a flying unit, and is priced at $239.99, saving you $40 off of the MSRP for the set.

BANDAI JAPAN - APRIL ANNOUNCEMENTS Another round of cool new imports has been listed with attractive domestic prices! New Kamen Rider, Gundam, One Piece, Ultraman, Saint Seiya and more can be found here

ENTERBAY ACTION BODY RM 4.01, WARDROBE 16 STYLE 311 Enterbay is releasing a new version of their articulated 1/6 scale body, as well as the first in a new line of clothing sets to go with it. The RM 4.01 body includes a familiar caucasian head as well as changeable hands; the Wardrobe 16 Style 311 clothing set includes a Black Felt Trench Jacket, a Navy Roundneck Longsleeve T-Shirt, a pair of Black Classic Fit Trousers and a pair of boots. The body and the clothes set are each listed at $39.99.

STAR TREK, OZ, STOOGES - MR POTATOHEAD Some cool new licensed Mr Potatohead figures have just been listed. Choose from Kirk & Kor and Spock & Uhura at $27.99, Wizard of Oz 4-pack at $44.99 or the Three Stooges at $37.99

CARDBOARD STAND-UPS Over 160 new cardboard stand-ups of your favorite characters have been listed for pre-order. Each is approximately life-sized and priced at $34.99. We have a huge variety of licenses assembled, like Peanuts, Betty Boop, Star Wars, Doctor Who, the Terminator, Star Trek, DC Comics, Looney Tunes, Thor, Alice in Wonderland, Tron: Legacy, Power Rangers, Harry Potter, prehistoric Replicas, Bruce Lee and much more.

THINKGEEK ITEMS We have listed a number of new and favorite ThinkGeek items on our site. From Canned Unicorn Meat and plush Aliens monsters to playable t-shirts with synthesizers, guitars and drums and electronic items, these items appeal to a wide variety of collectors and 'geeks'. Check them out and see if you don't find something you like.

MORTAL KOMBAT 2011 FIGURES Jazwares is releasing a number of new waves of Mortal Kombat figures this year. The MK9 6" figure assortment is coming in June and includes Sub-Zero, Scorpion and Raiden; we have them listed singly at $14.99 each, or as a set of three for $39.99. Later in the year they will release the MK Classic Ninja 4" assortment with Ermac, Reptile, Scorpion, Smoke and Sub-Zero; these are available as a set of 5 for $49.99 and singly at $10.99 each. Also on the war is the Classic Robot 4" Multi-Pack with Cyrax, Sektor and Smoke, priced at $24.99. Finally, the MK9 4" figure series includes Johnny Cage, Raiden, Scorpion and Sub-Zero, priced at $11.99 each or $43.99 for the set of four. They are also available as a case of 12 (exact packout not yet known) for $114.99.

SONIC THE HEDGEHOG 20TH ANNIVERSARY FIGURES Jazwares has announced a new subline of Sonic the Hedgehog items. The 20th Anniversary line include things like the Sonic Through Time Set of 2 (also available singly), the 3" Game Pack figures, Modern Eggman, Classic and Modern Plushes and Comic Book Two-Packs. You Check out all of the new entries at the link.

NEW BOWEN MARVEL STATUES, BUSTS We have listings up for Bowen's latest exclusive statues. The 13" (Adam) Warlock Magus Variant statue shows the purple villainous future self of Adam Warlock wielding the Infinity Gauntlet and is listed at $224.99, while the 14" Valkyrie is done in a faux bronze finish and is priced at $249.99. Two regular statues are also listed - the 16" Destroyer Statue at $239.99 and the 16" Captain Britain Statue at $224.99. Finally, we have the two new Bowen Busts listed as well - the 7" Cannonball Statue and the 6.5" Avalanche Statue, each at $79.99.

1/10 SCALE TRON: LEGACY LIGHT CYCLE 2010 DIE-CAST FIGURE This die-cat metal sculpture measures 25 cm long (about 10") and uses AA batteries to light up the engine and wheel areas. It is sculpted with the rider attached and comes mounted on a display base, and is listed at $309.99.

NHL SPORTSPICKS SERIES 28 - CASE, SINGLES This new assortment includes returning favorites like Sidney Crosby and Roberto Luongo as well as new pieces like P.K. Subban and Taylor Hall. We have the singles listed at $13.99 each, and the case of 8 listed at $99.99.

12" COMMANDER BLY Sideshow's latest 12" Star Wars figure is Commander Bly from the Clone Wars. He comes decked out with multiple weapons, switch-out hands and feet, armor pieces and more, and he is listed at $119.99, $5 off the MSRP.

THE PIT COMMAND CENTER 12" FIGURE ENVIRONMENT Your GI Joes will have a new action/display space with this new set. It comes with multiple screens and the ability to set it up in your own style (at least, it appears to in the pictures), and it is listed at $124.99, $10 off the MSRP.

BATTLE DAMAGED CLASSIC PREDATOR MASK PROP REPLICA This fantastic new collectible measures 15" tall and includes LED lighting on the targeting structure. It is priced at $299.99, saving you $25 off of the MSRP.

WORLD WAR ROBOT ARMSTONG SET, SINGLES The 7.5" Armstrong figure is the newest entry in the World War Robot line. He comes in four different versions and is listed at $49.99 each individually, or $179.99 for the set of 4.

IMPACT MERCHANDISING T-SHIRTS We have listed a new bunch of t-shirts from Impact Merchandising. From Godzilla, "Texas Chainsaw Massacre" and "A Nightmare on Elm Street" to Captain America, the X-Men and Thor, there sure to be something for everyone.

NEW ENESCO DISNEY ITEMS Enesco has solicited a number of new Disney items. We have listings for Mickey's Birthday Numbers 0-9, as well as Showcase Covered Boxes with Steamboat Willie and Tinker Bell, Stocking Hangers and figurines with Jiminy Cricket, Dumbo & Timothy and Cruella with Puppies - check them out at the link.

NFL & MLB - BLEACHER CREATURES This new line of plush MLB & NFL pieces come in both 7" and 14" sizes, and we have a good mix of figures listed, priced at $21.99 for the 14" version and 11.99 for the 7" version.

NEW TRIAD ITEMS Our new Triad listings continue. We have the Grave Danger Triarama relisted at $69.99 and the Mayan Triarama at $39.99, as well as new male and female boots and two versions of the Gothic Lolita 1.0 outfit set - Black and white, each at $19.99. We've backordered the 12" figures of Lola at $79.99, Agent Indigo at $64.99 and Josh Randall at $89.99, and restocked the backorders on the Hispanic and African-American versions of the Omega Male Bodies at $22.99 each. Hero Type Bodysuits in both male and female versions are also listed, as well as male pants and t-shirts, and even the Maid in U.S.A. and New Skool female outfit sets are listed, at $19.99 each.

FRANK KOZIK & K. OLIN POTAMUS PORCELAIN FIGURES Frank Kozik has teamed up with K. Olin to release two versions of the Potamus Limoges Porcelain figure. The 15 cm long Red and Black versions are limited to 250 pieces each, each have a cigarette between their lips and the anarchy symbol on their hindquarters (done in red or black, naturally). We have each piece listed at $189.99, saving you $23 off each of them.

SCI-FI REVOLTECH #027 GYAOS 1967 This new version of Gyaos comes with a laser beam and a plane cut in half, as well as a mini flying Gamera and other parts. It is priced at $54.99 and is slated to arrive in June.

MINDSTYLE KOBE BRYANT VINYL FIGURE MINDstyle and CoolRain have teamed up for a new line of vinyl sports figures, and the first release is this WonderCon exclusive Kobe Bryant figure. It is dressed in a purple Lakers uniform and priced at $16.99

1/6 SCALE BARNEY ROSS STATUE This piece is modeled on Sylvester Stallone's character in "The Expendables", and measures approximately 14" tall and shows him aiming a handgun. It is listed at $149.99 and should arrive in the third quarter of 2011.

OKAMI PLUSH Amaterasu from the hit game Okami will soon be available as a plush figure, as well as a pillow. This little version is named Chibiterasu, and we have the Plushie listed at $21.99, and the Pillow listed at $24.99.

TREVCO BRAVE & BOLD T-SHIRTS From the current "The Brave and the Bold" Batman cartoon comes a new line of Trevco t-shirts. We have a wide variety to choose from, and they are priced at $16.99 - $17.99 each.

NEW BIOWORLD MERCHANDISING ITEMS Bioworld has announced a new bunch of Sesame Street, Marvel and DC Comics items. From Batman and Green Lantern Boardshorts to Elmo t-shirts and Cookie Monster Wallets, there is sure to be something for everyone.

BLACKEST NIGHT TRADE PAPERBACKS A number of Blackest Night Trade Paperbacks have been put up for pre-order. We have the Blackest Night TPB, the Blackest Night: Green Lantern TPB, the Blackest Night: Green Lantern Corps TPB, the Blackest Night: Rise of the Black Lanterns TPB, the Blackest Night: Tales of the Corps TPB, and the Blackest Night: Black Lantern Corps TPBs Volumes 01 and 02 listed, priced at $16.99 each. Be sure not to miss out on any of these hot stories.

------------
NEW ARRIVALS
------------

TRANSFORMERS UNITED E-HOBBY SETS – AUTOBOT, DECEPTICON, SET OF 2 These exciting new three-packs have arrived. The Autobot set includes a clear blue/green version of Hot Rod, a Battle-Damaged version of Kup and a version of Wreck-Gar with color and head changes, called Scrapheap, while the Decepticon set includes clear versions of Galvatron, Cyclonus and Scourge, each done in blue or purple. We have them available as a set of two three-packs for $229.99; we also have the Decepticon three-pack available singly at $119.99.

MP-05 MASTERPIECE MEGATRON WITH ORANGE BARREL PLUG REISSUE For those of you that missed your earlier chances at this fantastic Transformer, now you have another opportunity to grab one. Megatron comes with his clear purple flail attachment as well as a clear yellow Kremzeek, and is priced at $134.99.

GREEN LANTERN CLASSICS SERIES 02 - CASE, SET, SINGLES Another shipment of this series has arrived. We have stock available of the set of 6 (Nautkeiloi/Medphyll, Skallox/Nite-Lik, Star Sapphire, G'Hu, Sodam Yat and B'dg/Dex-Starr/Despotellis) which includes the Collect-N-Connect pieces for Stel, priced at $94.99. We also have the case of 8 in stock, which adds additional Nautkeiloi/Medphyll and Skallox/Nite-Lik figures, and it is priced at $124.99. Finally, we have singles available of Nautkeiloi/Medphyll, Skallox/Nite-Lik and G'Hu, priced at $16.99 each.

FANSPROJECT PROTECTOR & SIDEARM RESTOCK We have restocked our supply of the TFX-04 Protector Armor and the TFX-05 Sidearm Weapon. The Trailer converts to an armor set to make Classics Hot Rod into Rodimus Prime, and the Sidearm figure changes into a weapon for him, as well as including accessories for the car mode of the figure. We have the Trailer priced at $82.99, and the Sidearm at $11.99.

WORLD WAR ROBOT 9" LARGE MARTIN FIGURES – SET, SINGLES Five new World War Robot figures have arrived. This new assortment of 9" Large Martin figures includes Auspublic, Big Red, Iron Panda, Mr. Frosty and Sanddevil, and we have them available as a set of 5 for $224.99. We also have singles available of Iron Panda, Sanddevil, Auspublic and Mr. Frosty, each at $49.99.

TRANSFORMERS UNITED UN-19 WHEELJACK The import version of the new Wheeljack figure comes with a slightly different paintjob done with metallic colors, and is priced at $33.99.

SCI-FI REVOLTECH #025 CAPTAIN JACK SPARROW The latest release in this movie-inspired line is Captain Jack Sparrow from the "Pirates of the Caribbean" movies. He comes with a sinking ship base, his hat, sword and pistol, an interchangeable hand and more, and is priced at $54.99.

NEW DOCTOR WHO ITEMS - FIGURES & MORE We have received a wide variety of new figures, Classic figures, novelties and more. We have a new TARDIS Changing Mug where the call box appears and disappears with temperature changes, a rotating LED Phone Charm, a Dalek Mug, a sonic Screwdriver from the Third Doctor as well as one from the Tenth Doctor, the Resurrection of the Daleks Collector Set, the Eleventh Doctor's TARDIS Playset, a Seventh Doctor Figure, a Tenth Doctor "End of Time" figure, the Pandorica Collection set of 6 figures and CDs, and two Third Doctor Two-Packs. Be sure to check all of the menus for all of the new items.

LIGHTSABER USB GLOW LAMP This plug-in device is in the form of a vertical lightsaber which is removable from its base, and can be used to light your workstation. It is priced at $39.99.

STEAMPUNK REPLICAS Museum Replicas has released their first assortment of Steampunk-inspired items. We have a Combobulator, a Disruptor, two different Double Barrel Shotguns, pistols and more, priced at $28.99 - $139.99 each.

GUNDAM ACTION DISPLAY BASE STAND - CLEAR BLUE, GREY We have received stock of two of the smaller display base kits. We have them now in clear blue and grey, priced at $6.99 each.

BULLETSTORM GRAYSON ACTION FIGURE We have also restocked the Grayson figure from Bulletstorm. This figure comes with a carbine rifle and wearable goggles, and is priced at $15.99, saving you a couple of bucks off of the MSRP.

RATCHET & CLANK SERIES 02 - SET, SINGLES This second assortment of Ratchet & Clank figures includes Holo-Armor Ratchet with Clank, Azimuth with Orvus, Rusty Pete and the Smuggler, and they are available as a set of 4 at $64.99, saving you $15 off of the MSRP. We also have the figures available singly, priced at $15.99 - $17.99 each.

BigBadToyStore.com