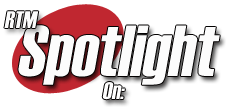 Year Without a Santa Claus:
Action Figures & PVCs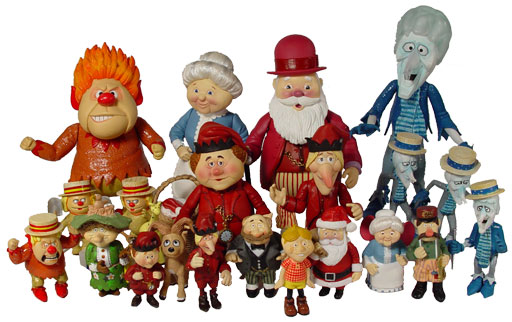 Everything eventually comes back into style, and truer words were never spoken when it comes to the Rankin Bass animated holiday specials that filled the airwaves of television in the 1970's. The pairing of Arthur Rankin and Jules Bass resulted in some of the best-loved specials on television, and now some of the most merchandised ones.
In the last few years there have been toys and action figures made of Rudolph the Red-Nosed Reindeer (by Playing Mantis), Here Comes Peter Cottontail (by Diamond Select Toys) and now The Year Without A Santa Claus. The license for Year is held by Warner Brothers, who has given the master merchandise license to the Musicland Group. The Musicland Group (who runs the Suncoast, Media Play and Sam Goody Stores) has further contracted this out to several toy companies to make toys and action figures. For plush toys, tree ornaments and a variety of miscellaneous items (like salt and pepper shakers and mugs) they have chosen NECA, and for action figures and pvc figurines they are working with Palisades Toys. In this case is was the licensor who approached Palisades to make these toys, and though they are different from the usual offerings of Palisades they are still done to the same standards.
The basic story of The Year Without A Santa Claus is that Santa gets the flu, and he's also bummed out that no one seems to care about the spirit of Christmas. Instead of going to major retail headquarters to be convinced he decides to just take the day off and sleep in. But his elves take it upon themselves to help out Santa by going off in disguise to find holiday cheer, and they are accompanied by the littlest reindeer Vixen. Not being incredibly competent at anything but making toys, the elves get into trouble along the way and they need a little bailing out by Mrs. Claus.
The most indelible aspect of the special is the introduction of the Miser Brothers - Heat Miser and Snow Miser. The two are polar opposites even though they share the same mother - Mother Nature. The elves try to convince the guys to swap territory and have Snow Miser let it snow in Southtown while Heat Miser gets to play in the North Pole. The two just don't get along and they can't agree until Mrs. Claus tells their mommy on them and she cracks the whip and makes them work together. What makes those two so memorable isn't their look, but their theme songs. The songs are so insidiously clever that they get inside your head and just will not leave, so much so it's a wonder they aren't cola jingles.
Palisades is producing six action figures and accessories along with a set of eleven small pvc figurines. There are several ways to get the toys and pvcs, and they are available both carded and boxed. The six characters with action figures are Heat Miser, Snow Miser, Civilian Santa, Mrs. Claus, Jingle and Jangle. If you buy all the figures you will get all the accessories regardless of what package they come in. The figures are available like this:
There are three 2-packs of action figures available at Sam Goody stores exclusively - Snow Miser/Jingle, Heat Miser/Jangle and Santa/Mrs. Claus. (Pictures of the carded sets.)
There are two boxed sets with 3-packs of figures that are available at Suncoast and Media Play exclusively - Snow Miser/Santa/Jangle and Heat Miser/Mrs. Claus/Jingle. The boxed sets also have chase packs with either translucent red Heat Miser or Translucent Blue Snow Miser figures instead of their painted versions. The chase versions should be one per case and they are only available in the boxed sets.
To sculpt, paint and create prototypes for the line, Palisades called upon longtime friend SOTA. Yes, SOTA is the company that sculpted William G4 (who could explain why Santa isn't around if he got close to Santa and was hungry), and is currently producing anatomically accurate figures of adult film stars created the sculpts for these toys. Let's face it, without porn there would be considerably less kids so it all ties together.
Click on a picture below to see more pictures of that action figure.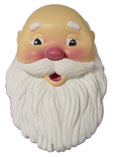 Santa Claus is a figure that has starred in numerous movies and television shows, and is also a key part of the holiday season and lives in the imaginations of millions of children across the world. He is the one fat guy that everyone really likes and doesn't make fun of, and since he really only works one day a year you can see where he put on the weight. Plus he has the voice of Mickey Rooney, so he's Irish! Santa appears in the line in his civilian clothes because that's what he wears for most of the show, and because there is a great version of him in costume available from Playing Mantis.
Santa is just over six inches tall without his hat, and he's several inches wide as well. He has a small metal chain that goes across his vest (and part of the expanse of his belly) and he has a cane and a hat (which fits but doesn't have magnets or pegs to keep it there). The neck and shoulders can twist and there is an elbow twist for the right arm. Both hands can twist and the waist can also twist. There isn't any leg articulation, but the waist joint is rather ingenious in that it is like a ball joint so the legs can be moved forward into a sort of sitting position. The lower ball of his waist is split into two hemispheres with a leg on each, so the legs are able to move while the articulation is completely hidden. This is a great touch and Palisades has always made an effort to hide articulation when possible.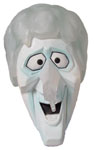 Snow Miser is a chilly guy who likes to make fun of his brother (Heat Miser) and freeze things. He is very frigid (which makes one wonder why he wasn't a woman) and he loves to eat snow cones and frozen food, while still frozen. His favorite drink is iced tea and his advice while traveling to the North Pole is 'don't eat the yellow snow'. Snow Miser had the voice of comedian Dick Shawn, who was an antecedent of some of the later madcap comics. He starred in Mel Brooks 'The Producers' as LSD and he died while on stage doing a set. The funny part is that he had a heat attack during a show and the people thought it was part of the act and it took a while before they realized what really happened.
The Snow Miser action figure is the tallest of the line at eight inches. He has a 'snow-fro' on his head that's translucent and frosted, and a big nose that is the same. The neck can twist, as can the forearms (the articulation is hidden in the sleeves) and the shoulders. He also has a waist twist, thigh twists, ankle twists and he comes with a microphone-like staff. He also has a pair of mini-minions to do his bidding. The two are pvc figurines just under four inches and they look like smaller versions of the big chill. They aren't articulated, so you can just look at them and order them around - they just don't listen.

There are elves and there are elves. Some like to run through the woods and have long blond hair and are very tall, while others just make toys for Santa. Jangle is one of the latter and if you made Jingle and Jangle out as Laurel and Hardy, he'd be the Laurel version. He's a bit taller than Jangle and he has straight blond hair. Both the elves have problems with anything other than making toys, which explains why they aren't the running through the woods kind.
Jangle is just a little guy in the action figure department, at only five inches tall. He might be small, but he's big on chocolate and he has a big nose! His neck can twist, as do his wrists, waist, shoulders and legs (via a twist at the knee level). He has mid-bicep twists on both arms and the knee twists are hidden at the seam of his pants and socks. Since he's good with toys he is shown with a toy elephant and a zebra, neither of which bite.
Behind every great man there is a woman, and behind every man (great or otherwise) there is a woman trying to run his life! For Santa there is Mrs. Claus, who loves to cook treats and keeps an eye on the elves when they run off to get into mischief. She also keeps an eye on her hubby, since he spends the night in every other woman's house once a year. Shirley Booth is the voice of the missus, and don't call me Shirley.
Mrs. Claus is about the same height as Santa, measuring six and a half inches to the top of her bun. She has hair (unlike Santa) and she wears a very conservative skirt. Her neck twists, as does her waist, shoulders, feet and wrists. She also has mid-bicep twists to finish out her articulation. She has a basket full of Santa's work clothes (which do not come out), a toy giraffe and a single wrapped gift. Think of it like the box in Cast Away, you don't know what's in it.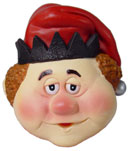 The other half of the elf pair would be Jingle, and he is the shorter, fatter version. He actually has kind of a hobbit look about him, with curly hair and a portly disposition. He does wear shoes, so that would rule him out as anything but a wannabe. He's the Hardy part of Laurel and Hardy, and he's very tight with Jangle. A little known fact is that he starred in an adult film called 'Jingle - All The Way' where he was known as 'Turbo-man'.
Jingle incorporates some of the same articulation that was used for Santa on his round bottom. Jingle has the same hemisphere pieces that go into the waist and allow the legs to move independently, the waist to twist and the legs to move up like a ball joint. His feet can twist, so he's one up on Santa, even though he's only five inches tall. He has a neck twist, shoulder twists, mid-bicep twists for both arms and both wrists. He also comes with two other useful items - a phone for those calls to home (and 1-900 numbers) and a paper. You have to read something while on the throne!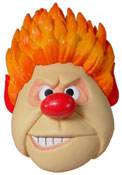 He's Mister Heat Miser and whatever he touches starts to melt in his clutches because he's too much. Heat Miser is the brother of Snow Miser and the son of Mother Nature. There is pretty strong evidence his dad is Don King, but Mother Nature never likes to get jiggy and tell so we only have the tell-tale hair to give him away. In the movie he ends up trading Southtown for the North Pole for a day, but only after his mommy makes him. George S. Irving is the voice of Heat Miser, and he's relatively unknown even though his voice work was used for many of the secondary characters in 'Tennessee Tuxedo' and 'Underdog'. One thing is certain - you'll never forget his voice as Heat Miser.
Heat Miser is the biggest figure in the bunch overall. Snow Miser is taller but the Heat man makes up for in volume, volume, volume!! He's massive at just over seven inches and very solid. He isn't as articulated as some of the other figures, but he has a twisting neck, wrists, feet, thighs, shoulders and waist. He also has a pair of pvc minions like Snow Miser except the boys of summer are clearly Heat Misers boys. They have hats, no articulation and shovels so don't mess with them.
A note about accessories: The accessories described and pictured with the various figures here are not necessarily the ones that must go with those characters. If you buy either the two boxed sets or three carded sets you will get all the same accessories and we have divided them up in a way that seems to make sense for the characters but you can obviously mix and match to your own tastes.
To supplement the action figures (and to get more characters made who wouldn't be able to support an action figure) Palisades has created a set of pvc figurines. The figures are available in a single boxed set with all eleven available at the same stores you can find the rest of the line. The eleven figures are Santa (in Santa Suit), Mrs. Claus, Heat Miser, Snow Miser, Mother Nature, Iggy, Jingle, Jangle, the Mayor of Southtown, the Dog Catcher, and Vixen.
All the figures are fully painted and they range from approximately two to four inches tall. There are no accessories nor is there any articulation in any of them. They are all just miniature figures and there are two galleries of images of them linked to the pictures below. Each thumbnail shows the figures that are shown with close-ups on the gallery page.
Pictures of Santa Claus
Where to buy Year Without a Santa Claus: These items were originally released in late 2002, and were exclusive to the stores in the Musicland chain (Suncoast, Sam Goody, and Media Play). The PVC sets retailed for $19.99 each, and the action figure three-packs also retailed for $19.99 each.

Your best bet for finding them now would be to check eBay for them.