Afro Samurai Action Figures
Afro Samurai
click to see larger image
February 2007 - DC Direct

Offered by DC Unlimited - DC Comics' new brand of authentic collectibles based on the world's greatest pop-culture characters and stories. DC Unlimited products, created by DC Direct, will be sold through multiple distribution channels worldwide including specialty stores, comics shops and mass market retailers.

FROM THE HIT SPIKE TV ANIMATED SHOW!

AFRO SAMURAI ACTION FIGURES

Afro Samurai (played by Academy Award nominated Samuel L. Jackson) is an epic tale of a black samurai's hunt for Justice (Ron Pearlman: Hellboy, Alien 3) who murdered his father. Composed by famed artist RZA (Kill Bill, Wu Tang Clan) Afro Samurai blends traditional Japanese culture, funky technology and hip-hop to create a brutally fresh entertainment experience.

Each figure features multiple points of articulation and a base.

Advance-solicited; on sale October 10, 2007
Action Figures

AFRO SAMURAI 7.25"
JUSTICE 8.25"
KUMA 7.25"
NINJA NINJA 7"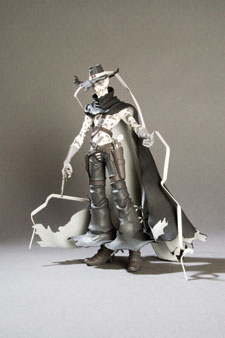 Justice
click to see larger image