World of Warcraft Action Figures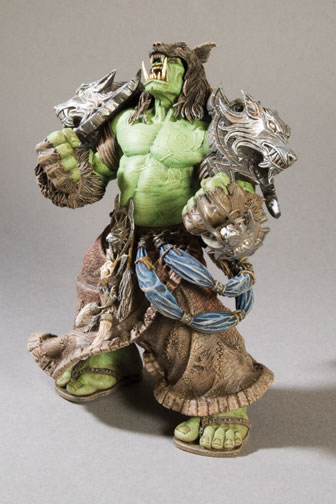 Orc Shaman: Rehgar Earthfury
February 2007 - DC Direct

Offered by DC Unlimited - DC Comics' new brand of authentic collectibles based on the world's greatest pop-culture characters and stories. DC Unlimited products, created by DC Direct, will be sold through multiple distribution channels worldwide including specialty stores, comics shops and mass market retailers.

WORLD OF WARCRAFT ACTION FIGURE ASSORTMENT

America's #1 selling PC game since 2004 bursts into action figure form in this incredible debut line from DC Unlimited. WORLD OF WARCRAFT is the massively multiplayer online roleplaying game with over 8 million devoted subscribers, and now its characters have been sculpted as action figures by DC Unlimited!

Advance-solicited; on sale October 24, 2007
Action Figures

Orc Shaman: Rehgar Earthfury
Blood Elf Rogue: Valeera Sanguinar
Dwarf Warrior: Thargas Anvilmar
Undead Warlock: Meryl Felstorm

Dwarf Warrior: Thargas Anvilmar

Blood Elf Rogue: Valeera Sanguinar

Undead Warlock: Meryl Felstorm