Flick Trix Still Riding High

Cool. Way cool. It doesn't get any cooler for boys aged 6 and up than to imagine themselves racing their BMX bikes down a steep curving ramp and performing death-defying tricks in mid-air. For parents of wannabe extreme sports heroes, it's comforting to know that your son can get those thrills at home -- without risking a trip to the emergency room.

``There's a whole fantasy element of pretending they're the ones doing all the tricks and all the moves,'' said Ben Varadi, explaining the appeal of Flick Trix Finger Bikes, which are miniature die-cast metal replicas of Mongoose, Diamond Back, Huffy and other top brands of BMX (bicycle moto cross) models.

Varadi, 30, executive vice president of Spin Master Toys, a privately held toy maker based in Toronto, laughed when asked whether his formal title might disguise one of the most valuable things he does on the job. He admits to being a boy who never grew up. He also is the company's chief creative officer, in charge of product development and marketing.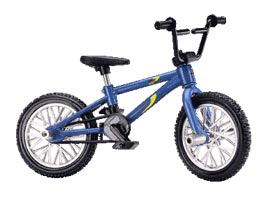 ``We knew the extreme business was a big business,'' Varadi said, referring to the extreme sports craze fuelled by cable TV coverage of live competitions in such events as dirt and street biking, skateboarding, in-line skating, moto cross (motorcycle) riding and snowboarding.
``It wasn't a question of, 'Should we do this?' The issue was, 'How many did we sell?'''
Flick Trix Finger Bikes, which let your fingers do the riding, stand less than 3 inches tall. Steer the handlebars with one finger and let another finger ride by resting on the seat. To use the front brake, push down on the handlebars with your index finger. To use the back brake, push the seat down.
New in stores this month are the Playsets so a budding Matt Hoffman can speed his Flick Trix Finger Bike down the ramp and jump off the platform of the Extreme Half Pipe Park or manoeuvre the curves of the Extreme Bowl Park -- just like he's seen on TV. An Extreme Platform (ramp) Playset also is available. Suggested retail price: $14.99.
``We were selling 400,000 Finger Bikes a week, although retail always slows down in July, as kids go on vacation or off to camp,'' Varadi said. ``We expect to sell half a million Playsets in six months.''
The Flick Trix Finger Bikes appeared on the nation's toy store shelves in time for Christmas 1999 and sold so well that Michael Glazer, chief executive of KB Toys, part of Consolidated Stores, Corp. told The Wall Street Journal ``we can't seem to fly them in fast enough'' in an interview published just a few days before Christmas.
In addition to children, other Flick Trix fans include collectors, usually teenage boys and men up to age 20.
Now on their way to toy stores are Series II Flick Trix Finger Bikes, which include bikes produced under three new BMX bike licenses -- S&M, Nirve and Volume -- and 20 new bike styles. The Series II bikes come in three different tread styles (street, dirt and knobby or racing) and two handlebar styles. Different styles of seat and seat posts are options. Suggested retail price: $7.99, same as the Series I bikes.
Varadi recalled how ``we worked like lightning from September to December'' to close licensing deals with BMX bike makers ``over the phone,'' he added, amazed at the simplicity of the process, and get enough product made to ship the Series I bikes to stores in time for the all-crucial Christmas sales finale.
In August, Flick Trix action figures of three BMX extreme rider stars and their bikes -- Matt Hoffman on a Hoffman bike, Fuzzy Hall on a Mongoose and John Purse on a Redline -- will be in stores, according to Spin Master. Suggested retail price: $11.99. That timing, perhaps not coincidentally, falls between two big extreme sports events: the Gravity Games, scheduled for July 15-23 in Providence, Rhode Island, which will be covered by NBC, and the X Games in San Francisco on Aug. 17-21, which will be covered by ESPN, the cable sports network.
For young boys, the Flick Trix Finger Bikes and competing brands of mini-bikes offer a chance at mastery of the breathtaking vertical jumps and other BMX bike tricks, according to Christopher Byrne, a New York-based toy industry consultant and columnist who reviews toys on his Web site -- http://www.thetoyguy.com.
``Mastery is something that kids love,'' Byrne said.
Source: By Jan Paschal/Reuters
[Posted 6/21/2000]