Toy Story To Make Big DVD and TV Series Splash This Fall
Disney will release ``Toy Story 2'' on VHS and DVD Oct. 17 along with the first DVD edition of the original ``Toy Story.''

The premieres will come just a week after the DVD release of two other major hits -- ``Jurassic Park'' and ``The Lost World: Jurassic Park'' Together, the four pictures are expected to usher in an unprecedented period of sales for the DVD format.

Disney would not comment on or confirm any of the information. It's believed that so-called sell sheets informing retailers to start preparing for the releases went out before the studio had finalized all the details of the elaborate supplemental material being prepared for the two titles.

``Toy Story 2,'' which has grossed $246 million at the domestic box office, will be priced at $26.99 in its VHS edition and is expected to challenge ``Star Wars: Episode I -- The Phantom Menace'' as the top-selling videocassette of the year.

But it's the DVD versions of ``Toy Story 2'' and its predecessor that are generating most of the attention.

Web sites began posting detailed information about the ``Toy Story'' releases on Monday and have been taking orders all week.

Disney is packaging both ``Toy Story'' movies in a low-priced two-pack DVD set for $39.99, or in a three-disc ''Ultimate Toy Box'' at $69.99.

The lower-priced set will offer widescreen versions of both movies and an optional full-frame version of ``Toy Story 2.'' Like ``A Bug's Life'' the computer-animated movies will be transferred directly from computer to DVD, not from the film itself. The 1988 Academy Award-winning short ``Tin Toy'' will be included on the ``Toy Story'' DVD, while the 1986 Academy Award-nominated animated short ``Luxo Jr.'' will be included on the ``TS2'' disc, along with an early trailer for upcoming theatrical release ``Monsters Inc.''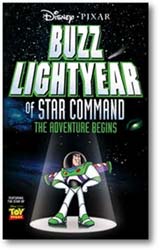 In addition to all of that material, the ``Toy Story'' DVD in the ``Ultimate Toy Box'' set also will include a making-of program and an audio commentary by the filmmakers. These were part of the special laserdisc edition of the movie that was released several years ago.
The ``Ultimate Toy Box'' version of ``Toy Story 2'' will feature newly recorded audio commentary by the filmmakers and isolated sound effects and film score.
The third disc will include an introduction by filmmakers to some material from the ``Toy Story'' laserdisc and some new material on the history of both movies from concept to film. It will also feature music videos, original song demos and early computer tests.
Buzz Lightyear fans who can't wait until October can get their fix with the August 8th release of Buzz Lightyear of Star Commmand, an all-new animated movie - available on VHS and DVD - starring everybody's favorite Space Ranger. The movie serves as a lead-in to the new Buzz Lightyear of Star Command animated series debuting this fall on ABC.
Mattel will be releasing a full Buzz Lightyear action figure line to support the series, featuring the characters in a cool, sleek animated style that should be of interest to many collectors.
[Posted 6/21/2000]