Spinmaster Vying To Dominate Extreme Toys Arena

Tired of your kids snowboarding off the roof of your house and using your mailman as a landing pad? How about seeing them double-park their skateboards in your living room? Put these worries aside, because Spin Master Toys has kids shaking with pure adrenaline and seeking the ultimate rush without putting another mailman in the hospital.
Introducing Flick Trix Finger Bikes! Flick Trix Finger Bikes are miniature die-cast replicas of real BMX Bikes from the best names in the industry. They include Mongoose, Redline, Hoffman, Diamond Back, Standard, DKand Huffy. With dozens of different frame designs to choose from, such as the"Fuzz Extreme" by Mongoose, "ProLine" by Redline and "Dirty One-Thirty" by Hoffman, Flick Trix enthusiasts are collecting them all.
Flick Trix are the only finger bikes for the serious extreme sport enthusiast. Series I Flick Trix Finger Bikes are fully-functional, mini BMX bikes that feature front and back brakes, real interchangeable mag and spoke tires (complete with a metal wrench), a real-working crank and even a real working U-Lock. Oh yeah, and the way you ride them is with your fingers. Just put one finger on the seat and another on the handlebars. To work the back brake, you simply press down on the seat, and to work the front brake, you push down with your index finger on the handlebars.
Spin Master is the current leader in the Extreme Sports Finger Play category. Hundreds of thousands of Flick Trix Finger Bikes are being sold a week! The excitement began over the holiday season when Flick Trix sold-through the marketplace in record numbers.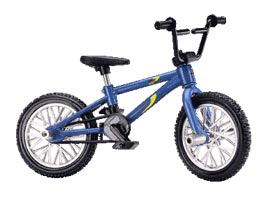 "We sold over 100,000 of them just like that" states Tom Alfonsi, Vice-President of Marketing for KB Toys. "Still we can't seem to fly them in fast enough," adds KB chief Executive Michael Glazer (The Wall Street Journal Dec. 22 '99).
Flick Trix have achieved craze status as the number one collectible in the marketplace right now! "Extreme is the craze of the moment," says SpinMaster CEO Ronnen Harary. "Everywhere you look you see Extreme -- from McDonalds and Mountain Dew commercials to ads for computer software, everyone is trying to associate themselves with the Extreme lifestyle." Chief Creative Officer, Ben Varadi agrees, "Extreme sports have finally reached the masses -- ever since the X-Games and related events were aired on cable TV and kids were given realistic and attainable heroes like BMX pro riders to admire." This spring, instead of fantasizing about Superman and the Hulk, real kids can do real tricks with Flick Trix!
Coming soon are Flick Trix Finger Bikes Series II. Choose among 20 newbike styles and 3 hot new licenses -- Nirve, S&M and Volume. Series II alsofeatures 3 different tread styles including street, dirt and knobby (racingtread) and 2 handlebar styles, seat styles and seat post styles.
BMX extreme riders, Matt Hoffman (Hoffman), Fuzzy Hall (Mongoose) andJohn Purse (Redline) action figures are also being introduced! Figures will be sold with helmet, goggles, extra grips and a Flick Trix Finger Bike. Playsets and arenas are also on their way: bowls, platforms, and half-pipes combine to create over 50 different BMX parks. For the creative child, the ProShopcontains enough parts to build 2 customized BMX bikes (parts case, frames,forks, wheels, grips, handlebars, cranks, seats, tools, jig ... all included). Oh, and don't worry about losing these tiny pieces; the ultra-cool Flick TrixCarry-Case holds 12 Flick Trix Finger bikes and features an easy-to-hold handle design.
[Updated 3/21/2000]