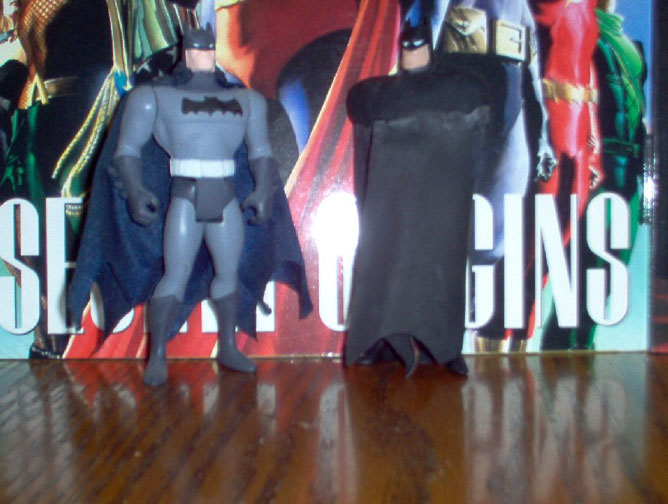 My Dark Knights are pretty straight forward. DKR Batman is a simple repaint of a B:TAS figure. The sillouette used Casimir's basic recipie, but I used a black rubber kitchen glove rather than vinyl and sculpy for the shoulders. I didn't line up the cape opening as well as I should have, but the overall effect isn't too bad.

The Green Lantern Corps with my three customs, and otherwise out of the package GLs..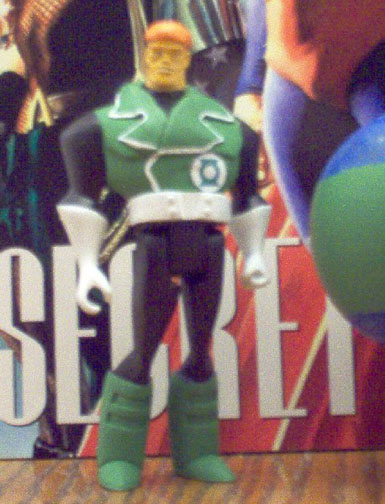 Guy Gardner is a Steel body with the shoulder harness cut down to just the belt. The vest is sculpy, as is the bowl haircut over a Metamorpho head. With the teeth white, and skin color painted on, the Metamorpho face gives a nice smirk.

Hal Jordan is a John Stewart body with a Superman head and sculpy mask. If I ever redo him I would give more shape to the mask (lesson learned!).

Kingdom Come Superman (or alternate future Supes if you read Batman/Superman) is a simple repaint. Ah... no sculpting!.

I was very enthused about doing Mogo from the Green Lantern comics, and had not seen one done before. The body is a wooden sphere from the craft store with everything painted except the symbol which is a color copy decopauged into place. The biggest problem I ran into is that a flat paper symbol does not lay well on the curved surface. The slices I needed to do to lay it
flat are visible- any suggestions someone has for doing this better would be greatly appreciated (BTW- Shakey McWeerd1 doesn't paint a straight line very well!).

The OMAC is an Amazo with his single eye sculpied, the bulgy forearms sculpied, and the fin and knife made from scrap plastic. I used the clear Amazo to give a translucent appearence but discovered Casimir's recipie for doing such things too late, so he's just blue.


My dear beloved Power Girl started as a Justice Lords Wonder Woman. I removed her hair, and used sculpy to make the bob. The shoulder disk, belt, and boot cuffs are sculpy, as are her sizable... assets. Her glove cuffs are electrical tape. The gold cords are elastic gold cords from the craft shop, and the cape is a cut down Superman cape.

I struggled with the Question because I really wanted to make him look like the JLU episodes. I searched though, trying to follow a number of suggestions to make the trenchcoat, but all to no avail. Just couldn't find one. I decided instead to go with the comic appearence, and based the figure on the DC Direct figure instead of JLU. The body is B:TAS Two Face with sculpy over the face of the extra John Stewart head I had from my Hal Jordan. I tried a few different hats, but finally just sculpted it from scratch.