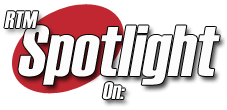 Mega Beaker &
Muppets Series 3
Action Figures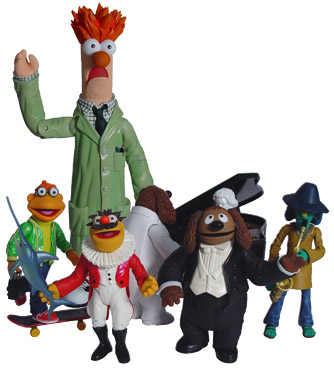 After getting things started and lighting the lights, Palisades Toys is moving right along with a third series of Muppet Show figures. The line of action figures is based on the creations of Jim Henson, who may be the patron saint of puppeteers. Over the years the characters have evolved and the roster has grown, from just a frog to enough characters to support a long-term action figure line and part and parcel of popular culture.
This is actually the last series of Muppet Show figures from Palisades Toys. Fans of the line need not fret, because it will live on, just under a new name. Future assortments will be branded as 'Jim Henson's Muppets' and the packaging will change over to a blue color scheme and the curtain motif will be dropped. The Swedish Kitchen will still be branded under the Muppet Show line, but that should be the end. The change is due to moving past the Muppet Show's 25th Anniversary and to better describe the line since it is no longer limited to just characters from the show and will be covering movie versions and characters (even though the 2002 SDCC exclusive was already from Muppets In Space).
The first two series of figures covered the heavy hitters of the Muppet show, with Kermit, Miss Piggy, Dr. Bunsen Honeydew and Dr. Teeth in Series 1, and Fozzie Bear, Gonzo the Great, Floyd Pepper and Crazy Harry in Series 2. Series 4 has an interesting mix with Mr. Samuel Arrow (Sam the Eagle from Muppet Treasure Island), Rizzo the Rat, Dr. Julius Strangepork and Link Hogthrob. The Swedish Kitchen Playset is just around the corner, joining Muppet Labs and Electric Mayhem. The Mega Beaker is the first in the series, and the next Mega Muppet will be Animal.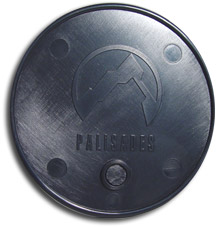 Something new to this series of figures is a change from the oval figure stands seen in prior releases to a circular one. The new stand is a plastic disk with a peg and an embossed Palisades logo on it. Presumably, the stand will begin to make an appearance in other lines from Palisades Toys.
Exclusives are not only part of the toy industry, but also part of the Muppet line. With the four regular figures in Series 3, the count for Muppet figures reaches 14 regular figures (including the two figures included in the first two playsets). For Series 3, there is one variant (of Zoot) and two exclusive figures. The exclusives are a Superhero Scooter (available through Wizard Entertainment) and a white version of Rowlf in his tuxedo. The number of variant and exclusive figures through Series 3 is now up to 12 (not counting industry exclusives), counting Super Scooter who is not yet available.
The best place to keep informed about all happenings on both the Muppets figures and other products from Palisades Toys is the official website. There you'll find sneak previews of upcoming items, a lively discussion forum and plenty of information on the various toys they produce.
Click on a picture below to see more pictures of that action figure.
Beaker is one the most eloquent of Muppets, rarely wasting words when unnecessary. He is actually a graduate of the Road Runner Oratory Institute with high honors, and his qualifications have helped him get the job at the Muppet Labs. That and his willingness to donate his body to science, even while he's still alive.

Beaker is usually a helpless victim of various experiments, and if you ever wondered what would happen if he were injected with Miracle Grow, Palisades has the answer. Mega Muppets is a new line of toys that will showcase some of the Muppet characters in a much larger format. The Mega Muppets are huge (Beaker is over a foot tall) while having the same articulation as their diminutive counterparts. Beaker is the first figure in the line, to be followed by Animal, both characters who were only available previously with playsets.

Beaker is bigger (around 13 inches tall), and his articulation has changed slightly. He still has ball-jointed shoulders, twisting wrists and ankles, twisting neck and bending elbows. The smaller Beaker has a waist twist which has been changed into a t-crotch for the larger version. Sounds painful. He still has a softer plastic lab coat that effectively covers up his legs. He doesn't come with any accessories, and he previously appeared in the Muppet Labs playset in smaller form.

Beaker was once the result of Richard Hunt's perfomance, but is now under the wing of Steve Whitmire. Kathy Jeffers sculpted Beaker, with Eddie Wires providing the paints. Johnny Apokolips created the prototype for Mega Beaker and peace on earth. Peace on earth was lost in the mail delivery, but at least we got Mega Beaker.

Every television show has loads of people behind the scenes, and most of them seem to get their jobs because they know someone. Scooter fits both of these, as a gofer for the show and the nephew of the theatre owner. He is the guy who works back stage to make sure everyone has their coffee or whatever other requests need to be filled. Not those requests, sicko!

Scooter has a sister (Skeeter) and he had other duties in the Muppet Movie. In that movie he was the manager of the Electric Mayhem band, though whether his uncle got him that job is unknown. What is also unknown is exactly what Scooter is. He has a slightly human look, but he's not your standard human and not obviously anything else. Kind of like Michael Jackson but yellow instead of white.

Scooter has two things in abundance - articulation and accessories. For the accessories, he is loaded with a radio, a megaphone (no Mr. Microphone here), a pair of sodas and a fast food drink caddy, a box of Chinese take-out food, a clipboard and a skateboard. The clipboard is blank, so you can add in a message if you'd like. The skateboard has rolling wheels. The sodas fit into the soft drink caddy, which is perfect for keeping dry when skateboarding home from Mickey D's. BTW, you should not eat the Chinese take-out box because while it's low on MSG, it's high on PVC. Besides, you'll just be hungry again in a half hour.

The package boasts a 'whopping 16 points of articulation' in the 5.5" figure, and it seems to be a matter of how you count the points. Here they are, and you can make your own summation: ball-jointed shoulders and neck, bending elbows, twisting wrists, twisting waist, bending knees and swivel joints at the thighs. Scooter's jacket is made of a softer plastic, and you can actually take the vest part of it off, though it looks very odd with just the sleeves on! The ball-joint in the neck is the standout articulation and it works very well with the figure.

The late Richard Hunt was the original performer for Scooter, and his successor is Brian Henson, son of Muppet creator Jim Henson. Kathy Jeffers adds Scooter to her sculpts, along with Gonzo and Dr. Benson Honeydew. Eddie Wires is the paint master, and good old Johnny Apokolips did the accessories. You will fill the role of consumer.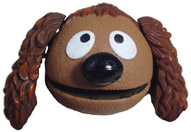 Rowlf is one of the characters on the Muppet Show that was older than the show. He was created in the 1960's and made appearances on the Jimmy Dean Show before making the move to The Muppet Show. Rowlf is the Piano Dog, and unlike Billy Joel has never been married to Christie Brinkley (though he has been known to sniff around her yard).

Rowlf has been more of a background character on the show rather than a headliner, and that's the way he likes it. This gives him a chance to get out and endulge his fondness for fire hydrants while taking in the unique scents of a city with the hassle of paparazzi. And yes, Rowlf is a dog and so he is man's best friend and appreciates a nice flea bath from time to time.

There are currently two versions of Rowlf, a regular tuxedo version and a white Rowlf. The white Rowlf (which sounds like something you get after bad clam chowder) was only available as an industry giveaway at the 2003 New York Toy Fair. Palisades has given some of the extras away, and you can find a few on eBay by people who found that white Rowlf wasn't as important to them as green Benjamin.

Both figures do have several things in common. They are both the same sculpt, in tuxedos and 5.75 inches tall. They both have the same articulation, with ball-jointed shoulders, bicep twists, wrist twists, thigh twists (so they can actually sit down), waist and neck twists and their ears are articulated for either hiding their eyes, or enjoying the breeze when sticking a head out of a car's window. The paint for the white Rowlf is actually a bit more complex, since the regular version has a solid white shirt and vest (off-white actually) and the white version has a gray vest.

The big difference besides regular Rowlf being blister carded and white Rowlf being bagged is in the accessories. Poor white Rowlf has none while the black Rowlf is loaded with a bust and a piano. The piano is a baby grand piano, and it is a huge accessory. It actually opens and can be propped open, and the music stand and key guards are both hinged with a realistic keyboard. The piano is an outstanding accessory and helps the figure stand out. The bust is of Beethoven, and Ludwig Van was well known for his piano compositions. Rumor has it that Palisades had his body exhumed, had the skull computer scanned and then rebuilt by a top forensic artist and then computer scanned again to create a startlingly accurate likeness that only needed 13 tries to get through his relatives for approval. This is a rumor that was just created, so spread it around and let's see how far it goes.

Jim Henson originally performed Rowlf, but the duties have passed to Bill Barretta. Cynthia Woodie created the character sculpt for Rowlf (and sculpted Lew Zealand in this assortment) with help on the tuxedo sculpt and prototype from Big Chief Studios. Eddie Wires and Johnny Apokolips did the paint and accessories, respectively.
America is known as the land of opportunity where people can come from all over the world to become successful. Lew Zealand is just one such man, who comes to America with a dream - to show the world his boomerang fish. His namesake island was the site of filming for the Lord of the Rings trilogy where he was nearly cast in the role of Gollum for his angling abilities. He did lose the part because of other contractual obligations, but had he been cast perhaps the films would have done incredibly well instead of just really well.

Lew is just over 5 inches tall and he's fully articulated. In this case, fully articulated means ball-jointed shoulders, bicep twists, bending elbows and wrists, a waist twist hidden by his vest, swivel thighs so he can site down, bending knees and a twisting neck. His ringmaster jacket is made of a softer plastic and can be removed with some work (though the sleeves are painted on the arms) and has a subtle pinkish-red hue on the lapel of his coat. He also has a nice frilly ascot around his neck that doubles as a bib, and he can rotate it as it gets dirty to keep the clean part under his mouth.

Having boomerang fish as your act means you should probably have some boomerang fish. Lew comes with a boomerang fish, a small-mouth bass and a swordfish, all suitable for mounting and throwing. The swordfish is perfect for those times when Lew finds himself in a duel. He has a nice minnow bucket with removable lid and a smaller opening lid on it to keep the two smaller fish. The big one he'll just have to carry around.

Jerry Nelson performs Lew the Muppet, and he also covers Floyd Pepper, Statler and Crazy Harry. Cynthia Woodie sculpted Lew the action figure, who was responsible for sculpting Rowlf 's portrait, Fozzie and assisting on Kermit and Miss Piggy. Eddie Wires painted Lew the blank canvas, and fictional Johnny Apokolips did the accessories. Big Chief Studios created the prototype, which has a good chance of either having been, or eventually being sold on eBay.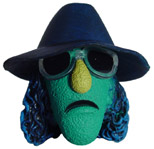 Not only is Zoot a blue Muppet, but he plays the blues. Zoot is a member of Electric Mayhem and he likes to belt out some jazz and a little blues from his saxophone. Like many musicians, Zoot is laid back and into just enjoying life and his music. He would kick back, but with sandals the act of kicking back may create dangerous projectiles, so he usually avoids entering the global arms race.

Zoot is the tallest of series three at 6 inches tall, and the lanky blues man is ready to be posed. He has the best articulation of the series, with ball-jointed hips and shoulders, min-bicep twists, bending elbows and knees, twisting wrists and ankles, a waist twist and a ball-jointed neck. His articulation works exceptionally well and he has a softer plastic shirt that works well for him. Zoot has a magnetic hat, and also signs of a magnabotomy (an operation to insert a magnet into one's head) scar on his head so the hat will stick. It does make it hard for him to fly anywhere. Zoot is also balding on top, like Dr. Teeth. No wonder they wear hats.

Zoot comes with his stock in trade, namely a friendly member of the woodwind family. For the rare occasions that he doesn't know a song, or decides not to ad lib he has a music stand. Zoot carries around a suspicious case, and instead of a gun it's for his saxophone. The sax is an alto by the design, and the neck comes off so it can be stored in the case, where it fits perfectly. The mouthpiece doesn't come off, and that's one of the few differences between this and a real sax (along with working valves). Zoot's prescription for happiness is a dose of saxual healing nightly. Repeat as necessary.

There are two versions of Zoot, and the difference is in the paint schemes. The regular version (i.e. most common) has an amber or brownish shirt, and a gold saxophone. The variant has a silver sax and a red shirt with darker pants.

Dave Goelz is the master of Zoot the Muppet, as well as Dr. Honeydew and Gonzo. Raven Hood sculpted Zoot's action figure form, along with Floyd Pepper, Crazy Harry, Dr. Teeth and assisted on Miss Piggy. SAT practice is always good, and Raven is to sculpt as Eddie Wires is to paint. Johnny Apokolips to accessories would be an acceptable answer also.

Pictures of Mega Beaker

Where to buy Series Three Muppets: The Muppet Show action figures retail in the $8.99 to $11.99 USD price range, and are available at stores like Electronics Boutique, Suncoast, and Musicland, as well as various online toy retailers.

Where to buy Mega Beaker: The Mega Beaker action figure retails in the $24.99 to $29.99 USD price range, and is available at stores like Electronics Boutique, Tower Records, Suncoast, and Musicland, as well as various online toy retailers.

Several such online stores are RTM sponsors AisleSniper.com, Big Bad Toy Store, The Outer Reaches, BeansToys.com, and Action Figure Xpress. (Be sure to check the other RTM sponsors, listed on the Shop Center.)