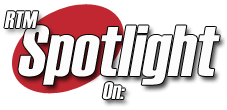 Muppet Labs Playset
Thomas Edison needed a place to work on such important inventions as the Electric Chair, and where would he be without his lab? Dr. Bunsen Honeydew is the same way, so the perfect solution is found in Muppet Labs (better known as the Beaker Torture Chamber). The good Doctor (good at what we aren't sure) has been aided and abetted by the good folks at Palisades Toys who have kicked off the series of playsets for their line of Muppet action figures with the aforementioned labs.
With any new endeavor you expect there to be growing pains and improvements along the way, but the first Muppet playset seems to have come off better than planned. The original design has a relatively plain floor, but tiles were added during construction. The playset also has translucent plastic (or else they are really dirty) for the windows, so you can almost see through them .The next playset is Electric Mayhem with Animal to be followed by the amazing Swedish Chef's kitchen (and Chef). The next two playsets look to be quality improvements, but they are building on a great start.
The set re-creates Muppet Labs with a variety of levers, dials and controls as well as a Beaker cooker, umm, pressure chamber for conducting experiments. Most of the experiments have to do with Beaker's threshold for pain combined with a desire to make better products for all Muppets. Usually the former is accomplished far more than the latter, though Beaker keeps coming back to try, try again.
The pressure chamber is designed to allow Beaker to be inserted while inverted so you can see his face in the window for the chambers (with his feet sticking out), There are several levers on the set that can actually be manipulated, though they don't cause anything to happen except proving Newton's third law. (For those who need a refresher, that's the one about actions have a reaction, as in pushing the lever causes it to move. If you already knew that, good for you!)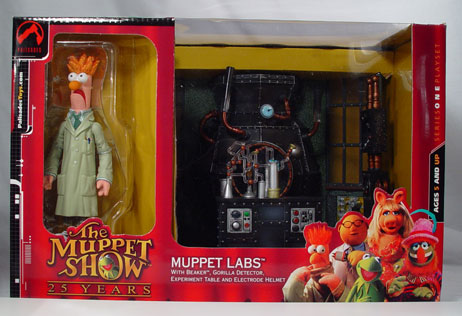 Included with the playset are two interesting accessories - a gorilla detector and an experiment table. The gorilla detector looks like a gorilla head and goes off when a gorilla comes in range, since detecting gorillas is often difficult, as they prefer not to be detected. Unfortunately, the detector isn't functional. based on taking it to the Samsonite suitcase testing center. Not a peep. The table's design looks to be inspired by the movie Frankenstein, complete with a skull cap for transferring someone's consciousness and also ensuring that any haircuts would be even. It's also used to hold the punch when flipped over for the annual Christmas party.
The playset is scaled to the figures and dwarfs those in the Simpsons line from Playmates. You can fit several figures on it, and the set comes with an exclusive Beaker figure. Dr. Honeydew was available in the first series of figures, and along with Beaker the main staff for the Labs is complete.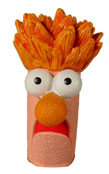 Beaker is the number two guy at Muppet labs, and he really is number two. He's there to assist his mentor Dr. Bunsen Honeydew. Beaker got his degree from Sally Strothers on tv, and he used that to parley a potentially lucrative position on Honeydew's staff. Beaker has a slight speech impediment - he can only make meeping and nervous sounds, but he can't talk. That probably stems from his lack of ears, which made it hard to learn language skills growing up. It also makes it very hard to wear glasses or earrings, but saves a ton of money on Q-tips every year.
There are three versions of the Beaker figure, and they seem to be more like before, during and after pictures. The regular version is available with the Muppet Labs playset, while the Vanishing Cream Beaker was an exclusive at Wizard World Chicago for 2002. The Invisible Beaker was given to industry guests at a party after the Chicago event, but you got an invisible Beaker if you were an early charter member of the Palisades Collector Club. The Vanishing cream Beaker was boxed and the Invisible Beaker came in a baggie with a small header card, but the factory accidentally made some Vanishing Cream Beakers that were packaged in the baggies, which were sold at Wizard World Chicago.
To make it easier for fans to get the show exclusives without having to go, Palisades has established a collector's club. The club gives out information before it is made public to members, you can get the exclusives and the most valuable part is a signed certificate from Palisades President Mike Horn. Next time you go to your safety deposit box, make sure you take out those worthless bonds and deeds and put that certificate away for safe keeping.
All the Beakers may look different, but they are the same basic figure in three delicious flavors, the regular, fully painted version, the half transparent, half-painted Vanishing Cream Beaker and the entirely transparent Invisible Beaker. The Non-Existant Beaker has been provided to all collectors who passed on the other three, absolutely free of charge.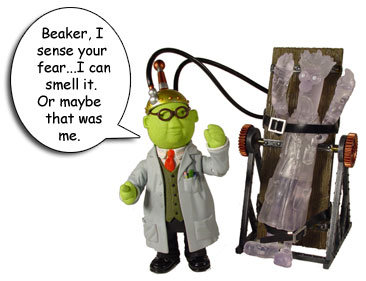 Poor Beaker's mouth isn't articulated as originally planned, but the rest of him didn't meet the same fate. The shoulders are ball-jointed, the elbows have hinge joints and the wrists and neck can twist. The waist and ankles can twist and his lab smock is made of a softer plastic for that lab feel. The regular Beaker has a playset, gorilla detector and experiment table as accessories and the Vanishing Cream Beaker has a tube of Vanishing Cream with him. You have to ask, what is the tube made off that holds the cream so you can see it but not the cream inside. When it comes to accessories, Invisible Beaker is like a convent - none.
Beaker was originally performed by Richard Hunt, who was an early member of the Henson players. He also played memorable Muppets Scooter and Statler (of Waldorf and Statler) over the years. Richard passed away in 1992 and Beaker passed on to Steve Whitmire. Steve has been with the Muppets since he was 19 after a try-out for Sesame Street led to an offer for The Muppet Show. Steve also performs Rizzo the Rat and Miss Piggy's dog Foo-Foo and several characters from Fraggle Rock.
Fozzie the bear is Kermit's right hand bear, and one of the most well-loved Muppets. While Fozzie proper is due in the next series of Muppets, Palisades made a variant of the not-so-bashful bear as an exclusive for the 2002 San Diego Comicon. Animal was slated to be the exclusive, but things didn't work out for that figure so a nearly clear version of Fozzie got the nod. You can also get Fozzie and other show exclusives through Palisades Collector Club, so if Beaker wasn't a big enough reason maybe Fozzie is.
Fozzie appears as he did in the movie Muppets From Space, which had the revelation that Gonzo was actually an alien. The 1999 film had Muppets, aliens, evil government agents and plenty of celebrity guest stars like Ray Liotta and Academy Award winner F. Murray Abraham. Fozzie was in it too, though not always in his usual, visible form.
Fozzie was boxed and once free he's got his duckie for company. The duck fits in his left hand, and atop his head is his trademark hat. The early figures with hats relied on either a good fit (Dr. Teeth) or a peg (Tuxedo Kermit) to stay on, and with Fozzie Palisades has moved to using magnets to maintain the look of the sculpt with the hat off and to provide good holding power. Word is that William Shatner and Ben Affleck have enquired into the same technology for their 'hats'.
Most of Fozzie is clear, but his hands are still brown from either his fur, or what bears do in the woods. The magnets are visible in the head and hat, but that's because of electromagnetic radiation interfering with the invisibility process (and the fact that there aren't any cheap transparent magnets). The shoulders have ball-joints and the neck and thighs twist. He's the biggest Muppet figure so far, and he can work as a projectile in times of emergency. Kids, don't try that at home.
Frank Oz is the man responsible for Fozzie's voice and movements, and most likely his name. Frank Oz is probably the most well-known Muppeteer besides Jim Henson, and he has been the most successful outside of the Muppets. In addition to bringing Yoda to life in the original (and actually good) Star Wars trilogy, Frank has been a successful director of major motion pictures. He also had bit parts as an actor in Trading Places and The Blues Brothers, both times as a cop. Is it any wonder after performing Miss Piggy?
Pictures of the Muppet Labs Playset
Where to buy Muppets action figures: The Beaker action figure is packaged with the Muppet Labs playset for about $19.99 to $24.99 USD, and the variant Beakers and Invisible Spray Fozzie are available through the Palisades Collectors Club, which you can learn about on the Palisades Toys site. The Muppet Labs playset is available at stores such as Toys'R'Us, Electronics Boutique, and various online retailers.

Several such online stores are RTM sponsors AisleSniper.com, Big Bad Toy Store, NHA Toys, and The Outer Reaches. (Be sure to check the other RTM sponsors, listed on the Shop Center.)