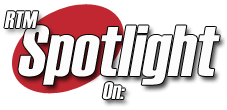 The Muppet Show:
Series One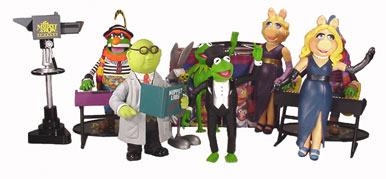 Kermit the Frog is not only the leader of the Muppets, but the oldest and most well known in the troupe. Kermit was created by Jim Henson in the 1950's and made his network television debut in 1956 on Steve Allen's 'Tonight Show'. Kermit made scattered appearances from then until the 1969 debut of 'Sesame Street', which led to 'The Muppet Show' in 1975. Since then, there have been a series of Muppet films to keep Kermit in the public's consciousness even after his creator (and original performer) Jim Henson passed away in 1990.

Palisades Toys has placed Kermit in the first series of figures and has also produced two other variations of Kermit, though one is not really a different toy. The regular version of Kermit is in the first series and is available everywhere Muppets are sold. A special edition of Kermit was created as a giveaway for the Wizard World East (WWE) convention in Philadelphia and was given to industry guests. This Kermit is identical to the wide release version with the exception of packaging - the WWE version came inside a small Muppets lunchbox rather than carded. Palisades intends to sell the lunchboxes alone, so no one should feel left out if they didn't get one. The WWE Kermit just came with the figure by itself, there were no accessory (unless you count the invitation to the WWE party).
The regular version of Kermit is nearly five inches of amphibian, with an articulated neck and thighs. The shoulders are both ball-joints to aid in posing, but that is the extent due to the design of the character. Kermit has very think arms and legs (yummy!) so the addition of knee and elbow joints wasn't practical for this figure. One of the hands is posed waving while the other is poised to hold his favorite mug (included and personalized with his name). There is a stand included with the figure that helps keep him standing, though the figure does stand on its own. The stand has a 'Muppet Show' logo, and Palisades has made it standard on their toys to include stands for display. Kermit also has a Camera with a Muppet Show logo on it, to catch his greatest moments on film. You just have to be careful someone else doesn't try to 'hog' the camera!
Along with the regular version of Kermit there is an exclusive version with Kermit in a tuxedo. This version is available only at Toys R Us stores and through Toyfare magazine. Kermit has a full black tuxedo on (sans shoes), complete with a removable top hat. The hat attaches via a hole in Kermit's head, but Palisades is working to implement magnetic hats for future figures to avoid using a hole and peg system. The Tux Kermit is the same size as the regular version and comes with the camera but no mug, probably to avoid spilling his drink on his nice suit. Tux Kermit has the same neck articulation as the regular version, but the joints for the thighs are different and they let Kermit kick a little. The wrists and ankles have twisting joints added, and the ball-joints for the shoulders are still there. He has a stand that is the same as the regular version (and he can stand without it) and comes with the same camera, though it is of a lighter color on the camera body.
Since Kermit is the lead and has worn a multitude of costumes throughout the show's history, you can bet on there being many more versions of Kermit down the road. Palisades Toys lists production credits on the cardbacks, among them are: Cynthia Woodie sculpted both Kermits, Industrial Zoo did the accessories, and Plan B Toys did the paint.
Miss Piggy is clearly the most important Muppet - just ask her. She's not only a fashion model, but she is an expert at the martial arts and has the hots for a certain amphibian leader of the Muppets. She was able to accomplish all her success after running away from home as a teenager, and now she manages her career and her love for Kermit. Miss Piggy is performed by Frank Oz, known not only as the only 'good version' of Yoda from 'The Empire Strikes Back' but as an actor and most notably as a director.
Miss Piggy is in the first assortment with her beloved Kermit (who would try to keep these two apart?), and she towers over Kermit at nearly six inches tall. Ever elegant, she is dressed in a purple wraparound (looks like Armani) with matching elbow-length gloves and sensible shoes, with pearls to compliment her ensemble. Miss Piggy (hard to believe she hasn't settled down yet) has her hair styled up for a compact look with a small blond bun on the back. She has ball-jointed shoulders (for slapping rude people and martial arts), a twisting waist and neck. She has mid-bicep twists on both arms and the right elbow is articulated. Both thighs are also articulated, though the form-fitting skirt keeps the legs from moving very much. Always vain, she is accompanied by her dressing room table, a hand mirror and a base. She can stand without her base, but it takes some work to keep her stable so it's best to use it. The dressing room table has a reflecting mirror that can swivel for the best angle and an opening drawer, and her hand mirror also reflects and is monogrammed with a calligraphically written 'P' on the back. The table is in pink with gold trim, and the hand mirror is gold as well, and they both match Miss Piggy's sash perfectly.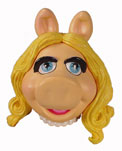 While one Miss Piggy is probably more than most of us could handle, Palisades has two versions of the femme fatale - the regular mass-market release described above and an exclusive for the Electronics Boutique (EB) chain of stores. While she is often referred to as the 'long hair version' if you look closely you'll see that her hair is simply down and the regular Piggy's is styled up. The EB Piggy's hair does prevent her neck from turning, so the sexier hair style means that the only heads turned will be those watching her and not her own! Otherwise she has the same ball-jointed shoulders, mid-bicep twists and right elbow articulation. Her thighs are articulated as well, and since she is wearing the same dress in a different color, her legs can't move much. This dress is a darker blue shade instead of a fuchsia, and she has dark metallic blue gloves and sash. Of course, the pearls are included as well. To make the outfit complete, she comes with a blue boa to wrap around her shoulders. Just think of it as a tribble with a tapeworm! She also has the same dressing room table and hand mirror, but now they are purple with silver trim (and really go well with the other Piggy's dress). The drawer also opens and the hand mirror fits right inside.
As the first lady among Muppets, there will probably be more Miss Piggy's down the road as the line continues. Cynthia Woodie and Raven Hood sculpted both Miss Piggy figures, Industrial Zoo did the accessories, and Plan B Toys did the paint.
Dr. Bunsen Honeydew is the director of Muppets Labs and the greatest scientific mind of Muppetkind. Combine his love of science and blatant disregard for his assistant Beaker's life, and you get the most dangerous, yet brilliant mind around. Just like a broken clock, Honeydew is right every once in a while as he does successfully invent items to make Muppet life easier. Just not easier for Beaker. Dave Goelz joined the company after a meeting with Frank Oz at a puppetry festival, and has been on board since 1974. Dave performs Dr. Honeydew, and he also created Gonzo.
Dr. Honeydew is the only figure in the first assortment that only has one flavor right now - just plain old Honeydew. There is no exclusive Dr. Honeydew yet, though one that is more yellow would be a nice touch! The good Doctor is a bit on the green side in color, due to Henson's wishes. This color may match the actual puppet better, but the character looks more yellow in photographs. The myopic Honeydew is five inches tall and has ball-jointed shoulders, twisting wrists, thighs, waist and neck. He also has a bicep twist on his right arm and an articulated elbow on the left. One hand is pointing, but the other is posed to hold the top-secret log of Muppet Labs, which is included with the figure. Kathy Jeffers sculpted Dr. Honeydew, Industrial Zoo did the accessories, and Plan B Toys did the paint.
He also has a base to stand on (but he does just fine on his own) and a robot rabbit. The robot rabbit is nearly as tall as Dr. Honeydew and has articulated shoulders and thighs. The neck also twists and there is an articulated lever on the side of his head, maybe it's a Muppet beer tap! It would be from 'Muppet Breweries'!
Dr. Teeth is not a licensed dentist as the name might imply, but he's the keyboard player in 'Electric Mayhem' the Muppet band. Not only is he a member, he was a founding member with his gold tooth and golden tones. Jim Henson was the puppeteer for Dr. Teeth on 'The Muppet Show', as well as plenty of other characters including Kermit. One thing is certain - this doctor can rock!
Dr. Teeth comes in two flavors - regular and Philly style! The regular version is the same costume as worn on 'The Muppet Show', which has plenty of reds and blues mixed in. He has a multi-colored overcoat that could be removed if not for the small arm holes and hands, and it's sculpted to give it a knitted look with stands of colorful yarn mixed in it. The Doctor also has large cuffs attached to the gloves (which are pink and match the hat). Dr. Teeth is five inches tall (with the hat off) and seems to show that Rogaine doesn't work on Muppets - he has a bald spot hidden by the hat he wears. This is consistent with the actual puppet he was sculpted from, and the head has two dimples that the hat fits into keep it atop his noggin. He wears pair of half-glasses that have clear lenses, and has a vibrant cummerbund and well textured pants. He has ball-jointed shoulders, a twisting waist and neck, twisting wrists and thighs and ankles. And he has one really big, orange nose and has his signature keyboard, in classic black. Just don't try to play it, the keys aren't mapped as a real keyboard would be!
Being in a band, sometimes one the road you change your outfit, and so it went with Dr. Teeth for a visit to Philadelphia. The city of brotherly love must have influenced the Doctor to change from his pastel outfit to something a little darker. The new outfit is black and white, with a very cool black hat. The articulation is unchanged with ball-jointed shoulders, twisting wrists and ankles, neck, waist and thighs. His included keyboard is purple, which goes well with the regular version. This figure was available at the Wizard World East (WWE) convention, and was limited to about 450 to 500 pieces. He was blister carded just like the regular Dr. Teeth, but his glasses are now solid with stylized lightening bolts on them. The cummerbund has a new, snappy design and the boots are darker, but it's the same guy with the same gold tooth! Raven Hood sculpted Dr. Teeth, Industrial Zoo did the accessories, and Plan B Toys did the paint.
Comparison Pictures of the Exclusive Versions
Where to buy Series One Muppets: The Muppet Show action figures retail in the $7.99 to $9.99 USD price range, and are available at stores like Toys'R'Us (and via their presence on Amazon.com), Electronics Boutique, Suncoast, and Musicland, as well as various online toy retailers.

Several such online stores are RTM sponsors AisleSniper.com, Big Bad Toy Store, The Outer Reaches, and NHAtoys. (Be sure to check the other RTM sponsors, listed on the Shop Center.)