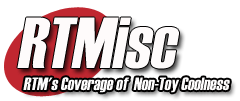 Marvel Universe Hulk Mini-Busts
Most people have sort of a dark side to them, just like the moon in the sky. A side they like to keep quiet and not share with other people all the time. A side that comes out when they are angry or upset, and one that lacks the usual self-control we all use to make sure we're polite and courteous. Bruce Banner is just such a man, whose dark side is manifested in the raging creature known as the Hulk, and who is otherwise an older clone of Urkel.
Bruce Banner grew up in a somewhat dysfunctional home, with a loving mother but a destructive and abusive father. His father eventually killed Bruce's mother, and so Bruce was sent off to live with a relative, sort of like Will Smith on 'The Fresh Prince of Bel Air' except Bruce isn't black and Will's parents never killed anyone. The result is that Bruce really doesn't work and play well with others, and he became an intellectual and isolated young man.
Where else would somewhat with repressed emotions and more brains than sense go than to work for the good old US Military-Industrial Complex designing bombs, of all things. Bruce studied in school and eventually became the lead designer of the 'gamma bomb' in a great example of using his gifts to defend democracy and one-up the enemies of the United States. He also designed and helped build a very destructive bomb, though eventually karma has a way of finding you even if you hide from it.
The karmic reciprocity came in the form of the Hulk, a physical embodiment of all Bruce's repressed feelings and emotions of bitterness, rage and anger. At first the change from Bruce to the Hulk only happened at nightfall and then he reverted to his usual form (albeit with ruined clothes) at the crack of dawn. This quickly changed from a nocturnal process into one fueled by adrenaline, so that whenever he became stressed or angry he'd change into the Hulk, a seven-foot brute with more muscles that Arnold Schwarzenegger and less brains than Dustin Hoffman in 'Rain Man'.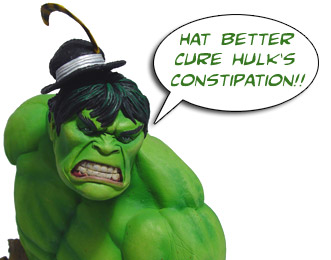 The same adrenaline that acts to push the metamorphosis also drives the Hulk to become stronger as he gets madder, so your best bet is to do him a favor and he'll calm down, making him easy prey. In a totally irrelevant coincidence, an episode of the qualifier-less Star Trek series was named 'Metamorphosis', and another one had abnormal aging of the crew that was cured by adrenaline. The clue that it was abnormal is that Scotty only got older and not fatter, and we know that's not how it happened. Oh, and as a side note, there is only one thing that is stronger than the Hulk - the waistband on his purple pants.

Anyone who grew up with the 'Incredible Hulk' television series, or Saturday morning cartoons knows that the Hulk is green, but that's not the whole story. Stan Lee and Jack Kirby created the Hulk in the early 60's using influences like 'Frankenstein' and 'Dr. Jekyll and Mr. Hyde' to introduce a misunderstood monster to the comics scene. His first issue wrapped up the obligatory origin story (complete with exposure to usually deadly gamma rays that transformed Banner into the Hulk) and a huge, gray Hulk. Then, in issue two he was green, seemingly without any explanation other than all the readers were suddenly cured of color-blindness. The truth seems to take two forms. Stan Lee says he changed it to green because the gray color wasn't working as well as he hoped. The other side of that was the printers had trouble working with the gray color for the Hulk, so the color was changed to green since it was easier for them to work with and color correctly. Whichever is the true tale, the result is that the Hulk is usually green, with occasional forays into the world of gray over the years. This year has been one of renewed interest in the green goliath because not only was there a major motion picture directed by Ang Lee in theatres (and soon home video), but the power of the Hulk invaded every toy store across the nation in myriad action figures and gamma-free giant Hulk hands (perhaps the coolest toy of the year). Never let it be said that companies will ignore all that press, and so now there is a pair of mini-busts to show off the Hulk in his green glory. Diamond Select Toys gets the credit for bringing a double dose of the Hulk to the world of resin, with a little help from Tower Records. The Hulk busts are part of the Marvel Universe line, and it covers a variety of characters from across the Marvel Universe, as the clever title might imply. The Hulk rises amid a pile of rubble with an angry look on his face, one that probably won't come off. You get a chance to check out his well-developed chest and back, but sorry - no nipples. The regular version has the Hulk shown in full transformation as a mean, green wrecking machine. The Tower Records exclusive version shows the Hulk in mid-transformation, as if you caught him in the middle of something. His face is half-Banner and half-Hulk though most of the rest of him is all Hulk. He still has the remains of a white shirt he was wearing, and it may have been expensive which would explain why he's so mad. One thing is sure, both Hulks have very nice teeth, and that's why you need to take it easy on sweets! There are two of these but they aren't equal in all things. What they do have in common is that both have sprung from the hands of Rudy Garcia, whose other work includes the Marvel Universe Dr. Doom bust, the Silver Age X-Men statues and the Ultimate Storm bust. Both busts are nearly seven inches tall and they both tower over other busts in the Marvel Universe line, as they should. The two have the same barber, as they have nearly identical haircuts that remind you of Bill Gates. Where they differ (beside the obvious that one is in mid-transformation) is that the regular bust is in a run of 7500 while his Tower exclusive cousin is stuck at only 1200. But they each have a full-color certificate of authenticity signed by the sculptor and numbered, so there is some consolation. The Tower Hulk also has the letters 'Hulk' in green on the base where the regular Hulk tends to more a more earthen brown.
Pictures of the regular Hulk